Food service industry in India was projected to grow at over 15% of CAGR (Compound Annual Growth Rate) between 2014 and 2020 according to India Food Report released in January 2016. By 2018, it is pretty clear that planning to start a restaurant in India, if done right, is a sure-shot path to success. However, it is easier said than done. For a successful restaurant business, you need realistic goals and adequate funds. This 12-step restaurant business guide will help you to learn how to start a restaurant business in India. Before we move to the 12 steps, let us take a look at India's diverse markets and destinations.
Understanding the diverse Indian restaurant market
If you were wondering how to run a restaurant successfully in India, it is essential to acknowledge and learn more about the diversity that this country offers. Each of the major restaurant markets in this country is different and has its own regional quirks. Understanding this cultural differences and how they play out in the market is crucial before thinking about how to run a successful restaurant and bar. Before we jump to the 12-step guide to starting a restaurant in India, let us take a look at the major markets where you might want to consider owning a restaurant business.
1. Mumbai (Bombay)
Mumbai, formerly known as Bombay, is India's largest and commercially most-important city. With a burgeoning film industry and a large population of diverse ethnicities, Mumbai is a fertile ground for opening restaurants and trying out new concepts. This Western Indian city houses a large number of vegetarians.
Successful restaurant concepts include bistros, restobars, high-end cafes, vegan and vegetarian restaurants, etc.
The best place to open a restaurant in Mumbai: Bandra, Andheri, Mira Road, Malad, and Town (South Mumbai).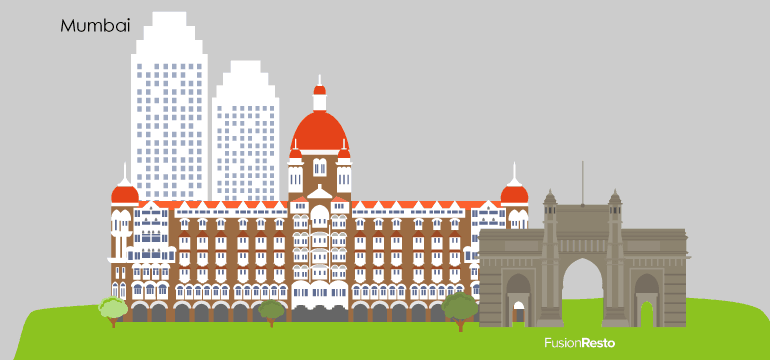 2. New Delhi (NCR)
Being the capital of India, New Delhi houses a number of consulates and embassies, and a large number of foreign residents. This gives budding entrepreneurs a chance to open restaurants that feature foreign cuisines. The NCR region is also known for patrons that prefer a premium ambiance, giving you the liberty to invest more in ambiance.
Popular restaurant concepts in NCR Delhi include foreign cuisines, trendy cafes, fine-dining, and vegetarian.
Prime localities include Khan Market, Connaught Place, Sector 18 of NOIDA, Greater Kailash 1 and 2, Saket, HauzKhas village and Gurgaon.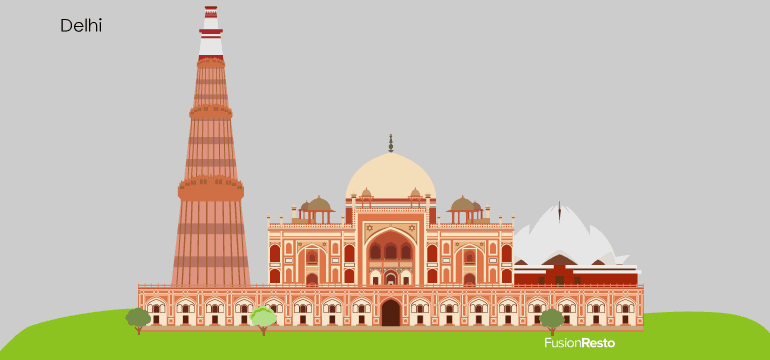 3. Kolkata (Calcutta)
Former-capital of India, Kolkata is often known as the cultural capital of India too. With its colonial buildings and old world charm, what's not to love about this mega city? Its recent developments have been its focus on IT startups, foreign investments, and an entrepreneurial culture that could rival other large Indian cities. With this in mind, the city is now a thriving hub of gastronomy, and restaurants of all kinds, from traditional to postmodern can be found across the city.
Kolkata is the right place for starting either a restaurant or a bar. This Eastern city is known for its sweet-tooth and loves its fish and meat equally.
Prime localities include Park Street, Ballygunge, Salt Lake City, etc.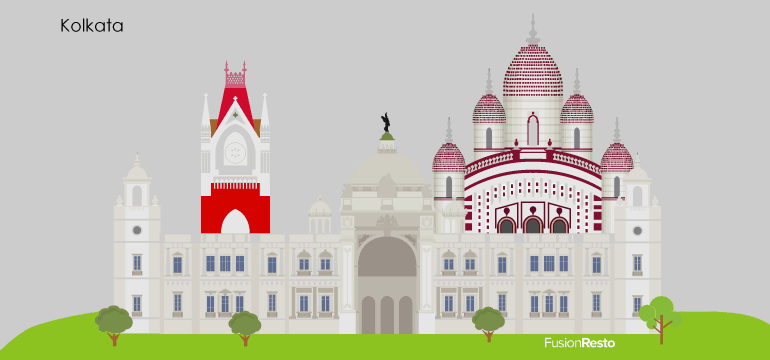 4. Chennai (Madras)
This Southern city is synonymous with culture, art, and classical music. However, Chennai is home to some of the best restaurants in the country. While traditional is something that this city celebrates, it is not afraid to go a step ahead of other metropolitan cities when it comes to cuisine. Most importantly, food-related politics are highly unlikely to set foot in Chennai in the near future, giving restaurateurs freedom to dish up all kinds of meat.
Chennai could be the best destination to start restaurants that are truly continental in nature, thanks to a lack of bias against people's food habits.
Trendy neighborhoods likely to see heavy footfall include Besant Nagar, Adyar, RA Puram, Nungambakkam, Royapuram, Cathedral Road, and TTK Road.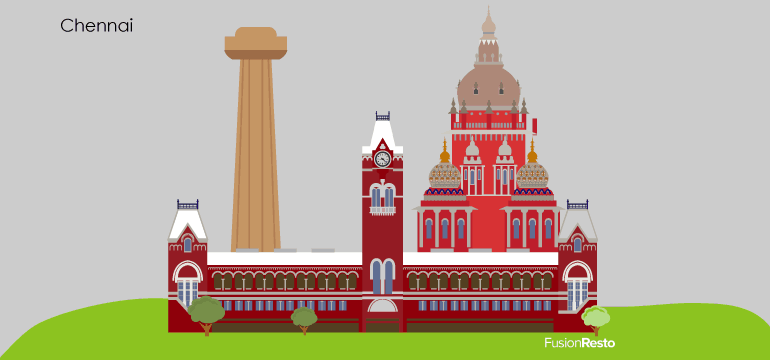 5. Bengaluru (Bangalore)
India's Silicon Valley is home to a large number of startups and young professionals, creating the perfect situation for a vibrant restaurant and bar scene. Bangalore has always had a pub scene thanks to its colonial history, and away from the politics of the nation, it is easier to serve risqué cuisines without fearing offending patrons' sensibilities. While starting a pub or a bar is a sure-shot path to success in Bangalore, offering international cuisines in any format is welcome too.
This beer-chugging city is a great place to start microbreweries, bars, pubs, and cocktail lounges. Steakhouses, restaurants specializing in Anglo-Indian, Coastal, Pan-Asian, and Southern Indian cuisines will find popularity too.
Prime Localities include Central Bangalore areas such as St. Marks Road, Lavelle Road, Richmond Town, and also, Indiranagar, Koramangala, and Kammanahalli.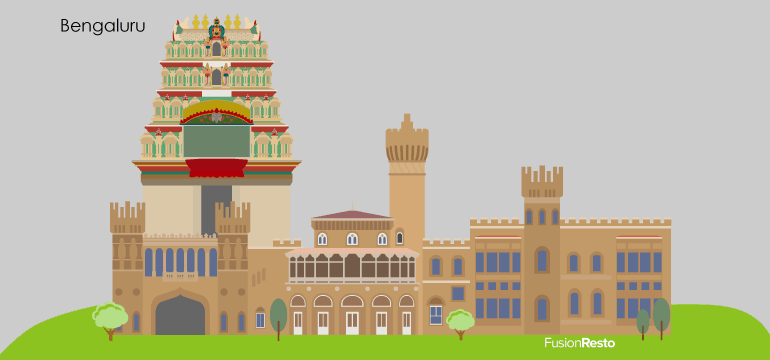 Emerging markets
India is not all about its large metropolitan cities. There is a lot of entrepreneurial activity taking place in tourist spots like Goa, Pondicherry, Cochin, etc. Emerging cities like Pune, Hyderabad, Shillong, and Mangalore are great destinations to start restaurants and bars as well.
Before deciding on the best place to open an eating joint, consider your restaurant startup costs, your own cultural affinities, and speak to veterans about their opinions regarding how to open a restaurant and bar in India. The hospitality industry is likely to explode in most Indian cities, and this will be fueled due to the migration of youngsters from smaller towns who are moving to cities in large numbers.
Away from home and with busy lifestyles, eating out and drinking will be cherished activities for locals and visitors in all cities. Time is certainly ripe for owning a restaurant business in India.

Now, let us take a look at the 12 steps to start a restaurant successfully in India.
1. Decide on the restaurant type and budget
Restaurants can be classified into various formats like fine dining, resto-bar, QSR, café, takeaway joints, and food carts. What format you are looking at and how much funds you can raise for your new venture are important questions to answer. Source of funding could be your own savings, or help from friends and family if the size of venture is small. However, for a bigger project, you can approach banks, non-banking financial institutions, venture capitalists or angel investors where you need a professional presentation to justify project feasibility.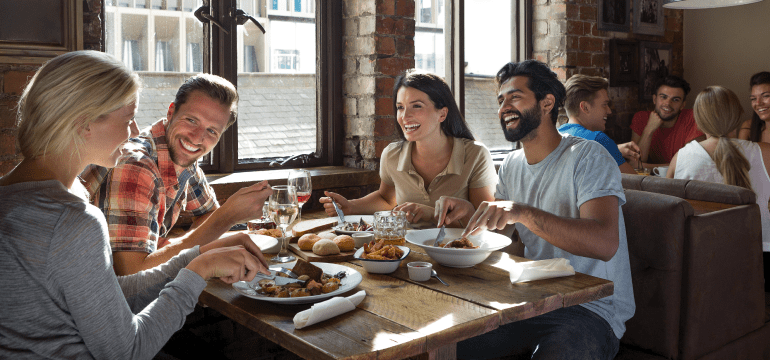 2. Calculate startup expenses and operational cost
It is always better to make a business report that gives a clear picture of overheads you are going to encounter. Expenses involved to start a restaurant are renting a location, buying kitchen equipment, doing interiors, and setting up POS. License, food, electricity, gas, manpower, advertisement and marketing are other overheads you need to consider while making restaurant business plan.
3. Acquire all the licenses you need
To start a restaurant in India, you need many licenses from different departments. It may take some months or a year to get all licenses in place, so start the process early. FSSAI does food licensing and registration in India. Other licenses and formalities include GST registration, eating house license, liquor license, professional tax license, fire safety license, pollution control certificate, lift license (for eateries using elevators), music/video license, insurance, signage license etc.
4. Choose the right location
Choosing the right location is extremely important for restaurant success. Visibility, accessibility, and target customer base in the area are crucial factors to consider while looking for a place. Study the competition in the area; find out what kind of eateries are doing well. Eateries on ground floor tend to be more visible than upper floors. Make sure you have enough parking area around to avoid inconvenience to customers.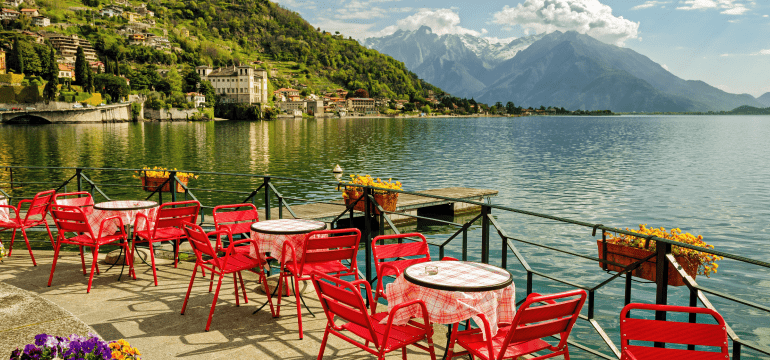 5. Acquire the kind of staff that will help you reach the stars
An experienced and ingenious master chef is the backbone of your restaurant that leads and trains others. Look for the right talent through references, newspaper ads, and hiring agencies. Other kitchen staff includes cooks and food preparation staff. Service staff including waiters, housekeeping, and busboys should be well-trained to face the customer. Besides that, you need a restaurant manager, store manager, and cashier.
6. Menu, logo, branding and interior design
Menu and logo design plays an important role in restaurant success and requires due diligence. For menu content, seek the help of chef in naming dishes. Include items that can be prepared easily with readily available ingredients. Price of dishes should be based on competition in the area. Approach a logo designer who can help you with menu design as well. Consider branding package for staff uniform, tableware, and paper napkins. Hire interior designer for restaurant theme along with furniture, seating arrangement, and lighting.
7. Find good food vendors
Have a tie-up with two to three food suppliers who are reliable and able to meet your food supply requirement. Even if you use one vendor, have a back up in place for contingencies. Your vendor must be a registered business with a TIN number. Do a daily quality and quantity check to ensure you are not deceived in any form. Make a legal agreement with the vendor for safeguarding your interests.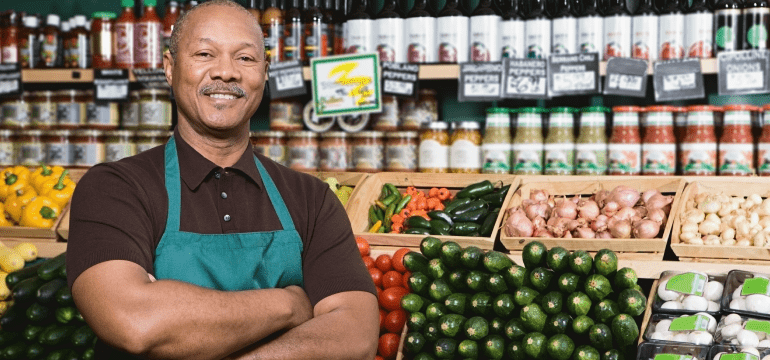 8. Invest in restaurant technology
POS (Point of Sale) systems form an integral part of restaurant business plan and in 2018 you just can't function without them. There are many POS systems out there that help you to manage orders, billing, and delivery along with many other features. If you plan to run a loyalty program, use technology to connect it your POS. For advanced technology implementation, you can consider predictive order management software to forecast demand and minimize wastage. Restaurant management software can also be used to accept payment via smartphones, e-wallets etc. Please remember to factor in the cost of licensing POS tools and restaurant management software while you are estimating your investment budget.

9. Advertisement and marketing
Advertisement is essential when you start a restaurant to get your name out in the market. Distribute menu pamphlets, advertise in local papers. Use social media like Facebook and Instagram to promote your business. Have a website and write blogs. Blogs are very useful in spreading positive word of mouth. Hire writers or ask customers to write a blog post in exchange for a free meal. Do a tie-up with food delivery apps like FoodPanda, Zomato etc if you plan to deliver food in your area.
10. Do you understand local tastes and culture?
Another question you need to ask before starting a restaurant is if you understand the local culture well. It is important to understand what people want, what their food tastes are, and how denizens of a city prefer to eat out before owning a restaurant business. It doesn't make a sense to start a steakhouse in Delhi NCR, where certain meat products may be banned. Similarly, getting alcohol licenses is improbable in a city like Ahmedabad. Understand the rules and regulations of each state before searching for best restaurant concepts.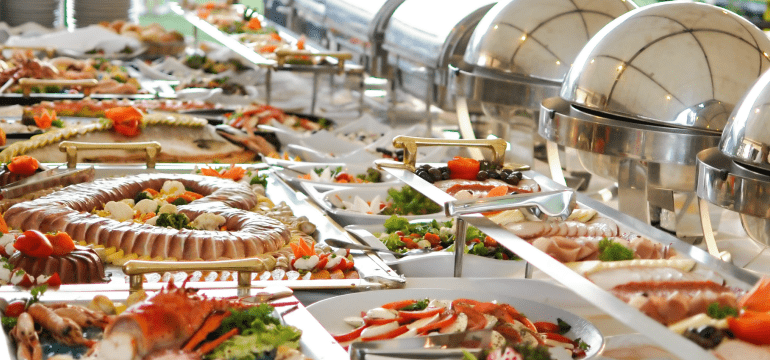 11. Begin a social media campaign even before you throw your restaurant's doors open
Do not underestimate the importance of social media, and the power it holds today over people. Even before you throw the doors of your restaurant or bar open, make sure that you run a social media campaign to get the word out there. It always helps to hire a digital marketing agency that specializes in creating buzz around a product that is yet to be launched. After all, your restaurant will be discussed on social media sites like Zomato, Facebook, Twitter, etc. It only makes sense to make optimum utilization of social tools if you are wondering how to open a restaurant in India.
12. Study successful restaurant concepts
Before you decide on a concept, consider search for best restaurant concepts that have been tried and tested in each city. Each city has a different vibe to it, and what works in one city will not work in another. Going through restaurant case studies will help you to decide on a concept that is better suited for your own venture. After all, a restaurant idea for business in India is no simple matter. It is as complex and diverse as the country is.
Run a successful restaurant business in India
Running a restaurant is a dream for many people. However, not many people are able to realize it considering the challenges posed by it. All you need is conviction, determination and adequate funds. Have a vision on how to expand. Understanding of food and palates is important.
Focus on learning more about food from your cooks. Get tricks of the trade from food suppliers. Don't expect quick returns instead focus on serving the best food irrespective of your business size. Most importantly, follow this restaurant business guide to understand how to run a restaurant in India.