On the festival of colors: Holi, add colors to your diners experience with scrumptious Holi dishes. Besides smearing each other bright hues, holi is also the time to savor on tasty food and exchanging sweets and gifts. Your restaurant can be the best place to let your customers celebrate this awesome festival in a more spirited way.
Today, every restaurant is finding out newer ways to market itself during festive seasons. These marketing strategies are helpful for restaurants to let them survive the fierce competition and rank better. Benefits of these ideas further allow a restaurateur to earn more loyal customers, increased sales and better ROI.
Why would you miss the chance?
Gear up this festive season to serve the best mouthwatering delicacies that complement the traditional aspect. Besides restaurant beautification, good food is an add-on. Create a rejuvenating ambiance with traditional holi special sweets like kheer Sandesh, malpua, gujiya, rasmalai etc. or introduce some original fusion food that can awaken the festive flavor of the people more.
If you want to lure your guests into your restaurant, lay out an impressive spread with the holi themed colorful buffet breakfasts, brunches, lunches and dinners.
Here's a list of 10 Best Holi Dishes Every Restaurant Must Serve:
Holi special sweets
Sweets are an integral part of Holi, present the holi platter with traditional sweets to attract your customers.
1. Gujiya – an authentic holi sweet
Besides all colorful and authentic Indian sweets, gujiya or stuffed dumplings are among the most favorite holi special food items. Mostly famous in the northern parts of the country, it is delighted by people pan-India. Hence, on this holi season, it's essential to include this delectable sweet dish in your dessert section.
2. Ras malai – magical sweet dough balls
When it's deciding about serving holi dishes at your eatery, how can you forget the Rasmalai? Originating in West Bengal, these sweet dough balls stuffed with cream, saffron, pistachio nuts and served with a fresh cardamom cream have been enticing foodies worldwide. If you miss to include this delicacy into your holi sweet, chances are you might miss out on the footfall.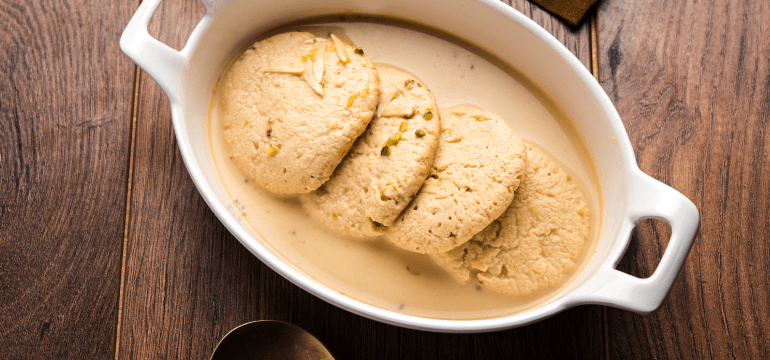 3. Malpua – Sweet pancake to tickle your consumers' taste-buds
Malpua or sweet crepe is a goody that is prepared with a batter of coconut, crushed banana, flour and milk, cardamom is used for flavor finally served with a sugar syrup. Don't forget to add this sweet into your menu. If served during holi your consumers will enjoy the delicacy and appreciate your effort.
4. Kesari Malai Peda
Your diners will appreciate the soft texture of Kesari Malai Peda. This sweet dish includes little balls made with cream (malai) or thickened milk. It also adds the flavor of saffron and cardamom and is ideal to awaken your spirits while satisfying your mood during holi.
5. Puran Poli – sweet buttery flatbread
Puran Poli is another favorite among holi special sweets. It's a buttery flatbread resembling the 'roti' and is prepared with stuffing (Puran) served with ghee (clarified butter) or milk. Include it in your carte and entice your customers.
6. Bhaang laddoos
Festival of colors is a fun event; it's time to relax and rejoice. As a restaurateur, it's your call to make the festival even more interesting. Bhaang has become synonymous with holi as it's imbibed in the Indian traditions and customs since ancient times. Eating it is also considered auspicious in some parts of the country. Ayurveda describes this herb beneficial for releasing anxiety. With so many specialties you can't miss out on this traditional holi food. Enlist Bhaang laddoos in your food menu and just witness the increase in the rush.
7. Mattar Kheer – exotic combination of green peas and rice pudding
If you want to stand out in your niche amidst tough competition, try introducing exotic holi dishes in your menu. Introduce your customers to the magical taste of the unusual combination of green peas and rice pudding. It is a sweet-dish served with pistachios and raisins to tantalize the creamy dessert.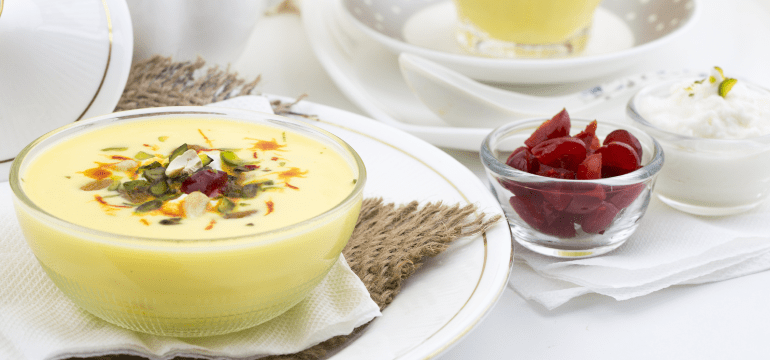 Traditional holi food- snacks and main course
8. Papri Chaat
This delicious fast food is famous during holi. This popular snack is made with crispy dough wafers served with chickpeas and boiled potatoes, tamarind chutney and yogurt. Your restaurant will get bonus points when you keep this food item in your holi special list. Serve it in a colorful platter and woo your guests.
9. Lentil with Coconut Milk and Kale
Want to know some other holi special recipes, let your guests indulge in creamy lentils topped with exotically spiced onions, chilies and cilantro. This colorful dish can top the list of all other holi food items.
10. Chana Masala
The chickpea variety dish is another traditional holi food. According to the recipe for holi dishes in Hindi, the chickpeas are cooked dry with vibrant spices, dried mango powder and further flavored with crushed pomegranate seeds.
11. Kachori
Don't forget to add kachori, the traditional Indian snack to your holi special menu. This food item is savory and a spicy mixture, eaten with tamarind chutney.
12. Dahi- Vada
Don't you want your diners to drool over the food you serve and come back to your eatery again and again! Dahi vada is one among the holi foods that makes everybody lust for more. This Indian savory snack is prepared by soaking fitters made from lentil, chickpea flour, or potato immersed in yogurt (dahi) is a must during holi seasons. Top it with cilantro, chili powder, crushed black pepper, chaat masala, cumin, green chilis, or boondi to make it more mesmerizing.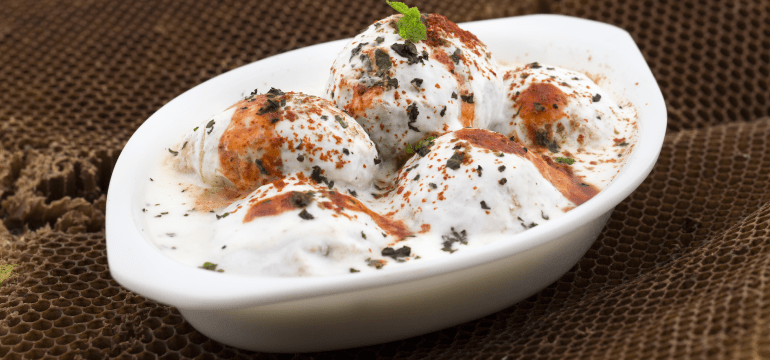 13. Saffron Rice
It is one of the most common Holi foods. During the festival, include saffron rice in your a -la Carta. However as it's an expensive luxury dish, remember not to overstock it. You can plan to serve it on prior order.
Must have beverages
14. Thandai
Mainly popular in Rajasthan and other northern Indian states, thandai is among those holi special drinks made with saffron, almonds, sugar, milk and different variety of herbs. On request, you can serve thandai with bhaang as well.
15. Lassi
This is one of its kind holi drink available as a traditional salty version or in a sweeter version as well, flavored with fruit. Make the glass more interesting with bhaang during the Holi festival.

Apart for all the traditional holi special dishes, your business can also see a rewarding result if you include some fusion food items in your list. In the days of Instagram, live videos, selfie, etc. people desire for something exclusive. Hence, your USP for this holi season can be Fusion food such as making the gujiya salted instead of sweet or adding any extra flavor in thandai etc. However, this list is not exhaustive. You can add other exclusive holi special dishes to your food list also. Holi dishes in Hindi are many, pick those that are within your budget.
Innovate newer recipes going by the or train your chefs to gather expert guidance of world-renowned chefs for more fascinating ideas.
People enjoy festivals like holi with family and friends, make your restaurant the perfect place for the rendezvous in this joyous moment. For your own benefit, use efficient restaurant management software to manage the increased rush and handle reservation.