This Valentine's Day plan strategically and think valuable ideas for Valentine's Day Restaurant Promotions. Whatever type of restaurant you operate, Valentine's Day promotions can help increase post-holiday sales.
In recent times, Valentine's Day has surfaced as one of the most glamorous days Pan India. Trans-cultural exchanges have made it all the more popular. It is an important day for both teenage and adult lovers alike.
Millennial celebrate this day in a trendy way. Eating out is one of the significant activities that the couples enjoy on this romantic day. A report published by Asia Today reporter Lee Mi-Hyun in Huffington post shows that Asian Millennial (Indian and Chinese) are the big spenders in restaurants today.
Online research shows that worldwide consumers spend about $13.19 billion and more than 34.6% of people prefer dining at the restaurants on Valentine's Day. Hence, a restaurateur has many rewards when he decides to present private moments to the lovers.
Are you in a fix? Don't have enough thoughts to implement?
Read along to find out the exciting tips and tricks and attract couples to your restaurant to boost your ROI.
Candles, flowers and romantic music are passe; millennial romantic couples look forward to something more exotic. Present day duos can go to any extent to follow their dreams – to impress their sweetheart.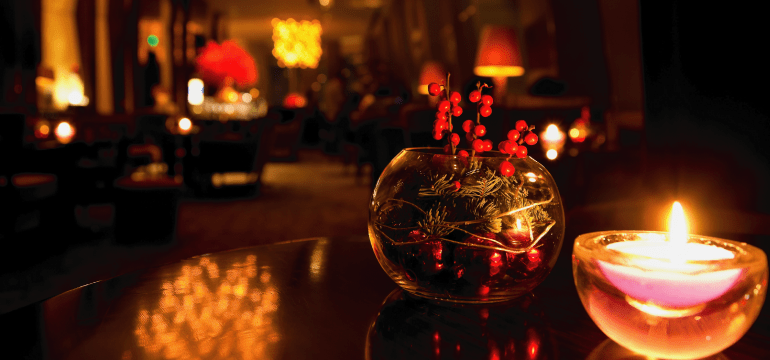 Why don't you allure the lovebirds with your magical touch? Transport them to an ethereal world with candlelight dinners, romantic ambiance or love-themed foods and Valentine's Day restaurant specials. Introduce a place just for the twosome; far away from all mundane affairs. Many restaurants throughout are typically booked for the V-day, so you need a winning marketing strategy.
Here are 10 proven Valentine's Day restaurant promotions ideas to attract couples:
1. Consider Offline communiqué
The first and foremost step for restaurant promotion on Valentine's Day is to decide on a suitable advertisement campaign. Besides, social media publicity don't forget to make use of offline advertising strategies too.
• Publicity through print media or local FM stations
Partner with a magazine, newspaper or FM channels, it would enable you to go for successful advertising. These are one of the best methods to let your target customers know about your Valentine's Day restaurant specials. Inform the love-drenched darlings about the complimentary offers you would make on a particular day.
• Distribute pamphlets:
Create pamphlets and spread all over the town. These are comparatively affordable methods to let the potential customers know about the Valentine's Day restaurant deals. Your advertising pamphlet should include valentine's day restaurant offers to entice customers.
2. Online/Social Media restaurant promotion through live streaming
Online advertisements are done solidly through Social media channels. Use intelligent Valentine's day promotion ideas for restaurants. Try to create a buzz through these networks and attract more leads. Video has become one of the best ways to reach customers on social media. Shoot a video that highlights your top valentine's day restaurant offers. Additionally, you can even host a Facebook Live broadcast where you answer on FAQs of customers and respond in real time.
However, with the recent changes in a Facebook news feed, you might find it a little challenging to publicize Valentine's day restaurant deals. But there are ways to tackle the situation:
• Provide high value and high-quality content.
• Try to nurture a relationship with your target audience.
• Develop meaningful interaction.
• Live stream your audience.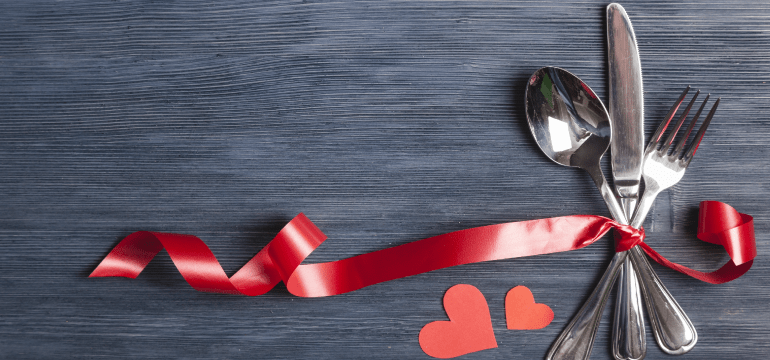 3. Organize Valentines week – events and fests
Romantically inclined couples always look for something new or exciting participation. Organizing valentines week at your restaurant is a great way to increase Valentine's day restaurant reservations. Moreover, it can give you an edge over other restaurants.
• Throughout the week you can plan to invite budding live-bands or organize events such as Karaoke.
• Hold competitions among the lovers and announce free couple passes to any recent hit movie.
• If you are not on a very tight budget, you can also arrange for a DJ night.
Organizing events is one of the most popular marketing strategies for restaurants. This scheme is perfect for drawing customers to your restaurants.
4. Honor frequent guests with loyalty offering
Loyalty offering is one of the proven methods for restaurant promotion on Valentine's day. Your customers are your king and so you need to serve them more devotedly. Offer frequent customers with a discount on their meals. Loyalty offering also has high marketing value. This strategy is an idea to increase the number of return visits of the frequent consumers.
To name a few, it could be a coffee, drinks or casual dining, entice your regular guests with exclusive offers on this particular day. This will be their day- more enjoyable and romantic.
5. Happy hour on February 14th
Both diners and restaurateurs love 'Happy hours.' This year 14th February falls on a weekday so that you can introduce two happy hour slots on that day. Working couples would appreciate if you consider providing happy hours after 8 pm, whereas teenage lovers would benefit from happy hours during lunch.
6. Special and themed table setting
The table setting is the vital part of any restaurant. A beautifully laid table would grab attention from any consumer. As a part of your Valentine's day promotion ideas for restaurants, put a romance-fused table. While attracting V-day couples for a romantic dinner, setting tables should be your first choice. You can add souvenir napkins, framed couple pictures (ask frequent guests email you their snaps). You can even surprise the winners of events (that you organized earlier) with personalized menu cards as a part of your table setting.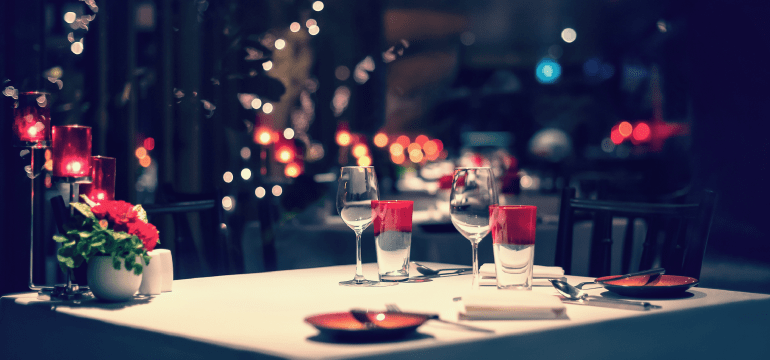 7. Valentine's day special themed dinner – valentine inspired menu
Design heart-shaped dish and present in ways that promote intimacy. Use soft, pastel colors while presenting food and you can consider serving beautifully layered entrées as well. Additionally, you can even think to offer aphrodisiac foods such as honey, asparagus, bananas and chocolate or infuse aphrodisiac spices in meat or fish preparations.
8. Decor & ambiance
You must give importance to the overall interior decor and ambiance. Interior setting is what uplifts a mood, hence transform the entire interior into a surreal environment. Your romantic guests will appreciate the idea and would love to come back to you again and again on the other days as well or even refer others to try out your eatery.
9. Let the men celebrate their 'Heart.'
Women love attention and men like to shower their spending on them. Valentine's day is the perfect time of the year for the men to show how much they can spoil their ladylove with gifts. Considering this, hold an event where Romeos can book spa packages or receive gift coupons from the branded stores. As February is the month of Women's Health Awareness, you can even arrange for some health-oriented passes. According to the marketing strategy, this would be one of the best valentine's day restaurant offers. Partner with a branded store, spa resort or yoga instructors and draw in customers for both of you.
10. Initiate Prepaid Valentine's Bookings
Regardless of all the above strategies, restaurateurs might consider taking prepaid reservations. This pre-valentine day restaurant reservations have benefits for both restaurants and customers. A restaurateur can minimize the risks of overstocking. For customers- those who have booked through prepayment can enjoy exclusive offers. This way you can go for a lucrative budget planning and methodically spend on decorations and souvenirs.

Bonus Tip:
Special days means increased footfall, so you need to manage the crowd intelligently. Have action plans prepared for the D-day, use efficient POS software and see an improvement in your sales and profits.
To conclude
Valentine's day is one of the most significant days for all segment of marketers. With several recent surveys, it is seen that there has been a considerable increase in restaurants business on this particular times. So it's high time you get to know the tricks to attract couples to your restaurant on this valentines day. With the ideas above be the cupid and present the lovebirds magic moments which they can cherish lifelong.