Opening a restaurant is the perfect opportunity to put your creative skills to test. You can play with innumerable ideas while setting up your restaurant. From food to furniture to interiors, everything about your restaurant can be made unique if you allow your creative juices to flow. The most interesting but challenging phase comes when you are deciding the theme for your restaurant. As a restaurant owner, you must understand that your restaurant theme goes beyond a carefully-chosen location and a well-designed menu.
The theme is a fusion of good food, pleasant ambiance and satisfactory service. So it's natural to face a challenging time while choosing a theme for your restaurant because your options are many.
Finalizing the theme
Remember that your restaurant is a business, and the theme will create a unique stamp of it in the market. If you are getting stuck while selecting a theme for your restaurant, here are a few things to consider:
1. Your audience
Before plunging into your restaurant theme, you need to ask yourself- who am I serving? Families? Men? Women and kids? Blue collar or white collar professionals? Always remember that what appeals to one consumer group may not appeal to the other group. You need to identify and understand your audience properly before finalizing a theme. Your menu, working hours, interior décor and seating capacity depends largely on the kind of audience you are targeting.
2. Demographics of your audience
Knowing the kind of audience at a micro level is good. But knowing the demographics of your region will be an added advantage. Before finalizing a theme, you must know the demographics of your city or town. The US Census provides a detailed profile of your city's income, median age, and size of households. You can use this information to select a theme that would appeal to them. Try to go beyond the local audience, especially if your restaurant is located in a tourist destination.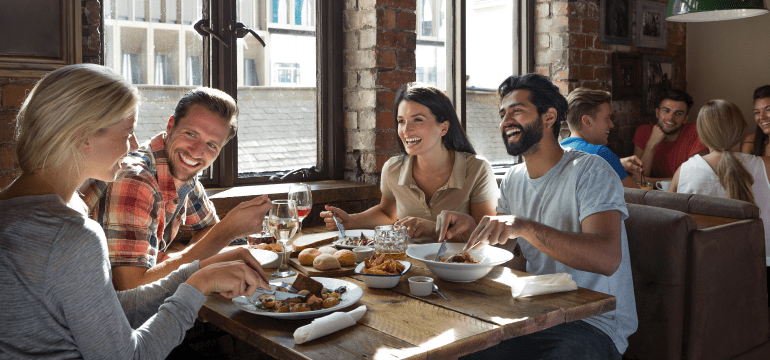 3. The opinion of your focus groups
Ideas for a new restaurant concept probably keep popping like popcorns in your head. You may be thinking of a family-style restaurant, a café or a food truck around the corner of the street. But focus groups are the most important consideration to make. More often than not, your own bias stands in the way of a good restaurant concept. You need to ask yourself- will my audience like whatever I am offering? Try to go for a theme that is not very common in your region and will be liked by your audience. Take the opinion of your focus groups while finalizing your restaurant theme.
4. The space available to you
This is a problem facing every restaurant owner these days. You have to be prepared to make your restaurant look perfect in a small space. It may restrict your seating capacity to a great extent. So you have to make sure that the theme you select is executable within the space available to you. You may have to keep it low given your budget. Therefore, you should pay close attention to the space available before your finalize your theme.

5. Your competition
You cannot open a sandwich shop if you see there's already an established brand providing that. It's not impossible but difficult. You might have to spend a lot on marketing to establish your USP. But while selecting a theme, you must know what your competitors are doing. No one is asking you to copy their style. But you can still get inspired by their themes and add your own twist to it. The theme of your competitor's restaurant is perhaps one of the most important factors to consider because it greatly determines how many people would come to your restaurant. So never underestimate the power of your competitors.
6. What's cooking the most these days?
The food industry, like the fashion industry, is a very volatile domain. Nothing remains constant here. People get bored of eating the same thing every day. That's why restaurant owners are striving to diversify their menu. In order to provide something that appeals to your consumers' palette, you need to keep pace with the latest food trends. The theme of your restaurant is largely determined by the kind of food you are offering. Keeping up with the food trends will help you know what is liked and disliked by your consumers. This would be a great help in coming up with a concept that people will appreciate.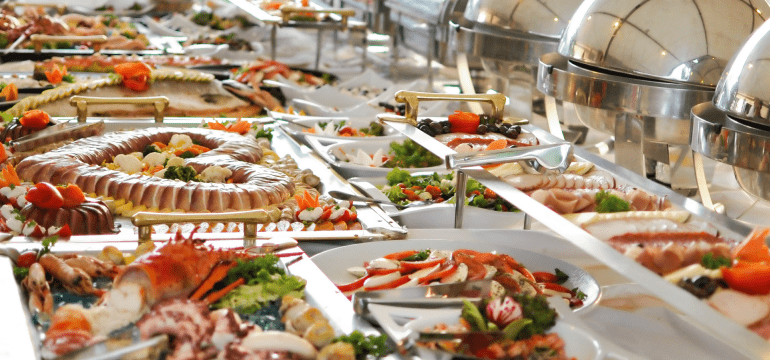 7. Your budget
Without money, your restaurant concept will never see the light of the day. Before finalizing a restaurant theme, you need to budget the process completely. You need to determine how much you will be able to spend on your concept. Of course, it's not an easy task because it requires a lot of planning. But it's unavoidable at the same time. You can't settle on a theme that would call for a whopping investment. So have a proper budget in place before finalizing a restaurant theme.
8. The location, design, and equipment
Where do you want to set up your restaurant? Somewhere close to the center of the city or little towards the outskirts? What kind of a design do you want? Sophisticated and classy or stark and uniquely conventional? These are questions you need to answer while selecting a theme for your restaurant. If you are planning on an upscale restaurant, you certainly don't want to locate it in an average neighborhood. The kind of cooking equipment you need also determines the theme of your restaurant by making it as transparent as a food truck or as reserved as a fine dining restaurant. Never forget these factors because they also determine your budget.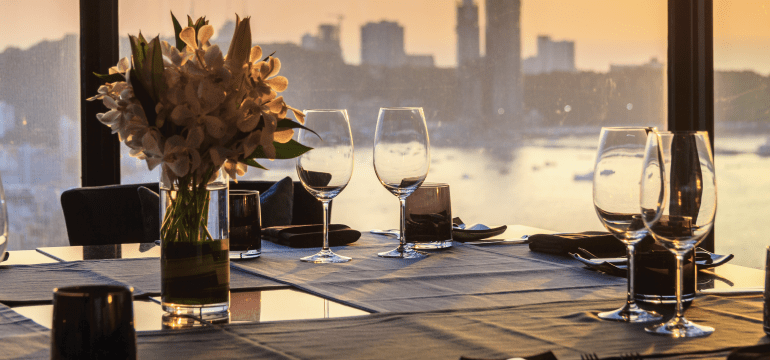 9. Does your theme have enough press-worthiness?
Word of mouth plays a very crucial role during the initial stages of setting up a restaurant. There's no doubt that negative publicity also popularizes something, but you certainly don't want to paint a wrong picture of your restaurant. In order to get more people talking good about your restaurant, you need to keep an outstanding theme and market it differently. Your restaurant should able to snatch the media limelight and get more people swarming to it. Research on research themes globally that are becoming stories in various food and lifestyle magazines. It will give you an idea what you should be doing.
10. Ethicality of your theme
Last but not the least, you need to understand that ethical businesses last longer. A derogatory and socially acceptable theme may call for legal actions. So you have to be extremely careful that your restaurant concept doesn't have negative innuendos. For example, you cannot open a family-style restaurant that is not authorized to serve alcoholic beverages. You might even have to close it down in the worst case scenario. So select a theme that is welcoming to all and paints an ethical picture of your business.
Once you have finalized the theme of your restaurant, do not forget to invest in a good software tool that helps you bring better service to your customers. Restaurant software programs such as the one we offer can help you streamline all your operations. After all, it is not just about finalizing a theme, it is really about running the restaurant in an effective manner that matters the most.