When people think of eating out, they tend to focus more on the whole experience, rather than thinking of 'only' food. They don't want it to be just a 'sit down, eat and go' kind of experience. They want to feel special and want to be transported to another world. This very psyche of consumers gave birth to themed restaurants in Delhi long ago. Recently, they have become a rage, and the numbers are only increasing, both in the number of themed restaurants in the capital and in profits! This gives a good enough idea about what people want and prefer when it comes to eating out, whether it is for 'just a coffee' or a complete dining affair.
Here is a list of 25 such visit-worthy theme restaurants in Delhi NCR that have been successful in pulling off their unique interiors along with giving their patrons good food and service. This is not an exhaustive list but covers almost all the popular restaurants.
1. Soda Bottle Opener Wala – Persian Themed Restaurant
This Iranian style cafe has won many hearts and is determined to win many more. The quirky and contemporary interiors fill your tummy with scrumptious food items like keema pav and parsi kulfi and one's soul with a touch of vintage and artsy emotions. The name of the place is really interesting and is almost enough to attract a curious visitor in. The moment a person enters this space, they can expect themselves to get transported back to the 50s. Standing pretty in Khan Market, Soda Bottle Opener Wala is relatively easy on the pocket too.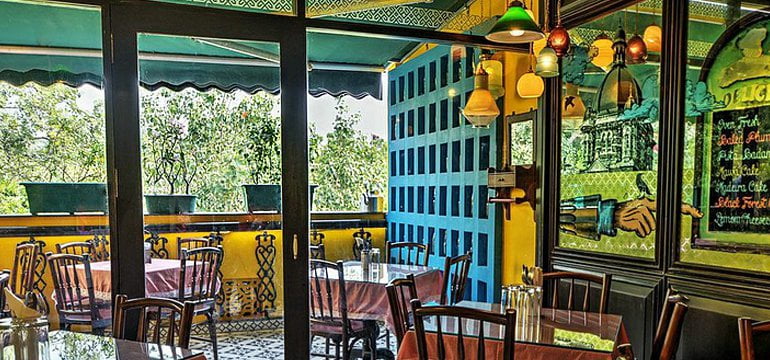 2. Lord of The Drinks – Medieval Themed Restaurant
Another one that will take everyone back in time. The dim lights and the wooden interiors ooze out the essence of olden times. When you couple such an ambiance with delectable food and drinks, you know you have a winner. Among unique restaurants in Delhi, this one is high on many people's visit list. Located in Connaught Place, it is easy to find. Another one is in Hauz Khas Village inside the Deer Park that offers a view of the park to those seated outside. With some really good reviews in its kitty, the place is always swarming with people, especially on weekends.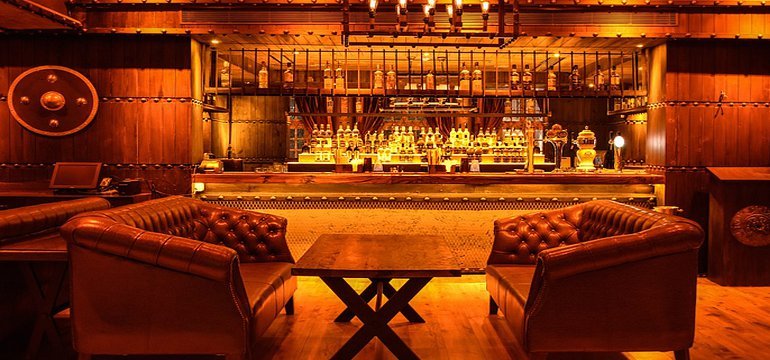 3. Tabula Beach Cafe – Beach Themed Restaurant
Delhi has no beaches, and this fact can frustrate any beach lover. What is the next best thing one can have? A beach themed restaurant! Tabula Beach Cafe offers the patrons an ambiance that makes them feel like a beach is just around the corner. The party music, colorful cocktails, wooden decor and every single thing, gives this place a tropical touch. If this is what one wants, Siri Fort is where they need to head to.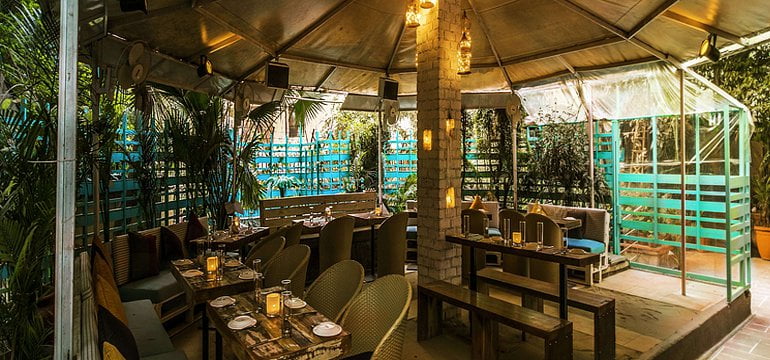 4. Smaaash Cafe – Gaming Themed Restaurant
This trendy cafe will get anyone's adrenaline pumping throughout. The name gives a huge clue about the theme of this very popular restaurant. With a spectacular bowling alley and other games like air hockey, cricket and F1 racing, there is no dearth of activities that one can choose from. Eat, play, eat, repeat! For anyone who prefers this theme, Gurugram is where they need to go.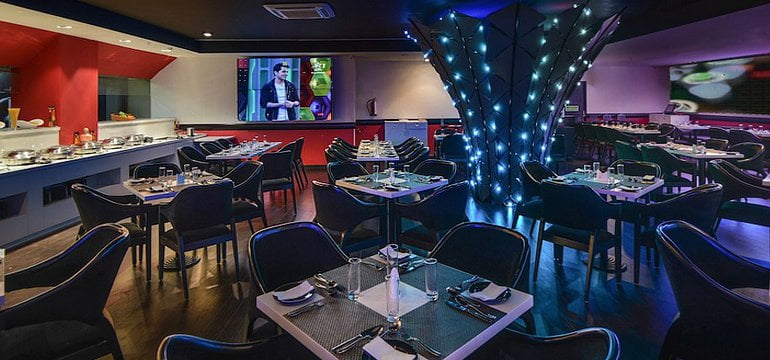 5. Kunzum Travel Cafe – Travel Themed Restaurant
For all the travelers out there who would love to share their experiences with others and would also like to hear stories from other travelers from across the globe, this Cafe in Hauz Khas Village fulfills these desires. Not only people, but the guests will also find some fascinating travel books here that will eat up all their time without them even realizing it. Isn't it a travel lover's paradise? There is free Wi-Fi too! This makes for a good weekend plan.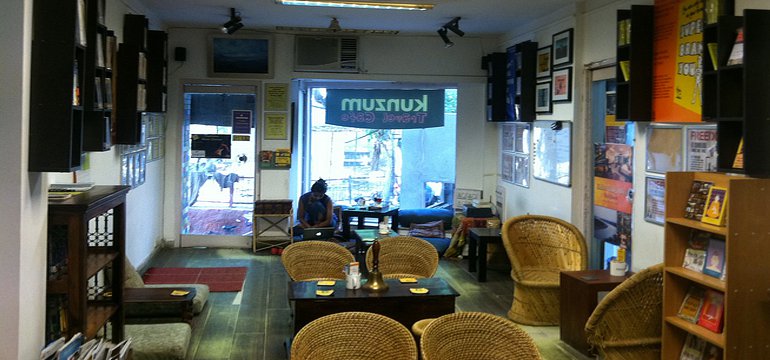 6. 21 Gun Salute – Royalty Themed Restaurant
The opulence of the ambiance here might intimidate anyone but not to worry because they will be treated like royalty too! Indian and Nepalese cuisine is served and the patrons are surrounded by majestic artifacts and an awe-inspiring vintage car that is parked inside the restaurant. From the food and ambiance to the service, everything is fit for a king! Those who wish to feel like one can head to Gurugram.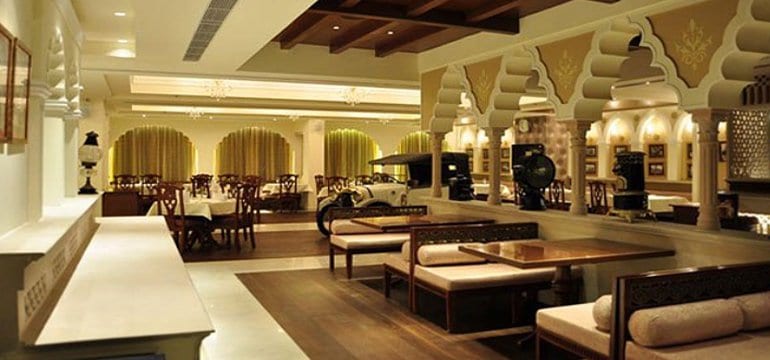 7. The California Boulevard – Hollywood Themed Restaurant
This sassy cafe will have people drooling over its interiors. Among unique restaurants in Delhi, this one is certainly the most stylish one. With cuisines from a whopping thirty-three countries and a wide range of wines adds to its appeal. The screen here plays old Hollywood films and the interiors exude Hollywood from every corner. The bar is on a tramcar and there is nothing more one would want to do than sit here for a good three to four hours while sipping on that wine. Hollywood is now in Gurugram!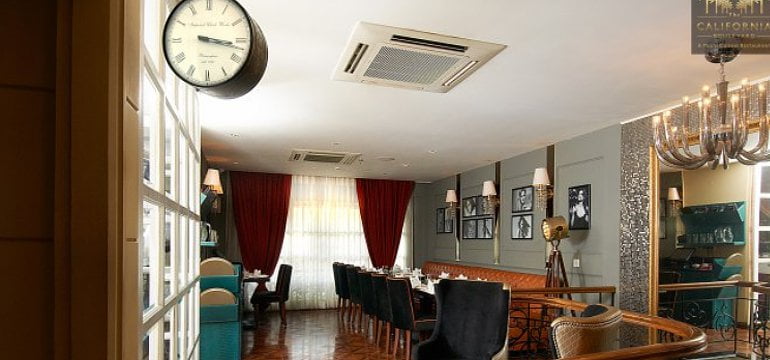 8. Jungle Jamboree – Jungle Themed Restaurant
As the name clearly suggests, we have a jungle theme here! An aqua cave, the forest-y interiors and an exquisite outdoor space make it look like heaven on earth. The greenery and the lighting make all the difference to how this restaurant looks. This one is for all those who love nature and kids will also love this place. Absolutely apt for family dinners and get-togethers. Connaught Place and Gurugram are the two places where this one can be found.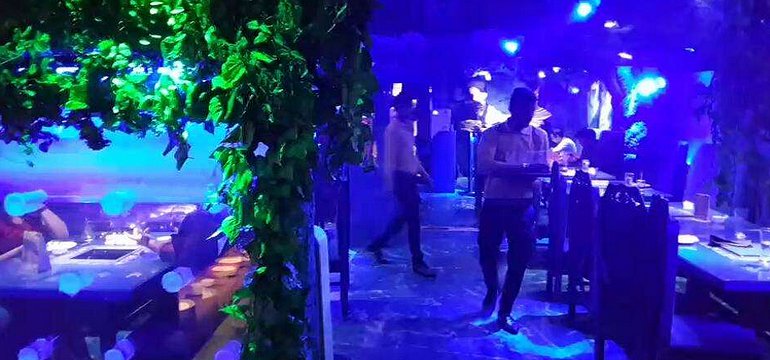 9. Cafe Dalal Street – Stock Exchange Themed Restaurant
This restro bar is one of the most unique restaurants in Delhi. Working just like stock exchange does, the prices of drinks will fall and rise depending on the demand and supply! The Dalal Street app can be downloaded on the phone and patrons will be able to check the fluctuating prices before ordering. Very unique and technologically advanced, this place catches everyone's fancy; especially, since people are comfortable ordering their favorite drinks at their preferred prices. Connaught Place surely is the place housing a lot of theme restaurants.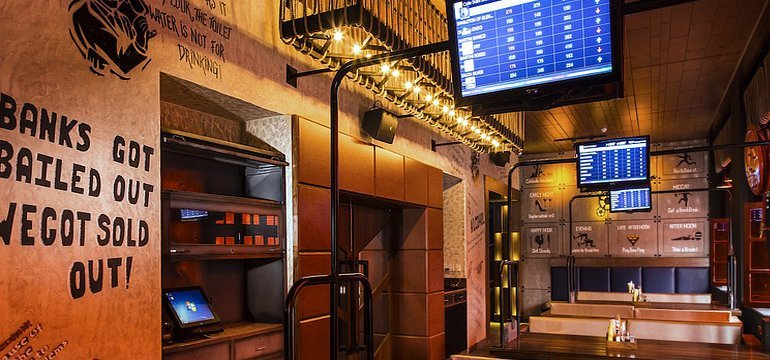 10. Junkyard Cafe – Junk Themed Restaurant
The best way to recycle things is to reuse them and Junkyard Cafe is doing just that. Everything here is funky and made of junk. The tyres, barrels and logs give it a 'garage' essence. A really unique ambiance with good food is all someone needs to make their day and this restaurant is at it! The immense effort that has gone into making this place the way it is, is visible and commendable. Another one in Connaught Place winning hearts every day.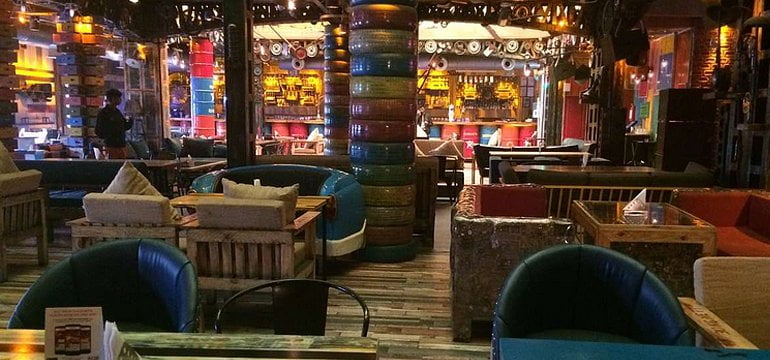 11. The Motorcycle Cafe – Bike Themed Restaurant
The name says it all. For all those biking enthusiasts and for those who hoard some love for automobiles, this is the place that will satiate their soul! This Bullet inspired restaurant serves excellent food too that is not very expensive. Tyres as tables, bike seats as chairs and a big bullet jutting out of the front door will make for perfect camera captures. Head to Netaji Subhash Place to go vroom!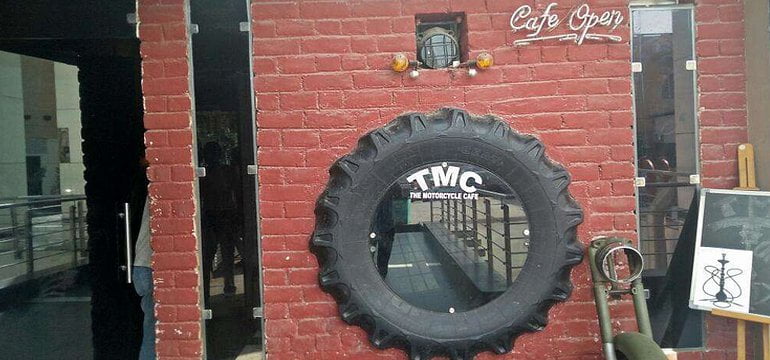 12. Chor Bizarre – Thief Market Themed Restaurant
The buffet serving car, antiques all across the walls and a unique thief market theme should make this restaurant top everyone's visit list. The incredibly stylish cafe has an ambiance that has been well-put and keeps all the people coming back for more. The food is praise-worthy too, and Daryaganj is where you will find it.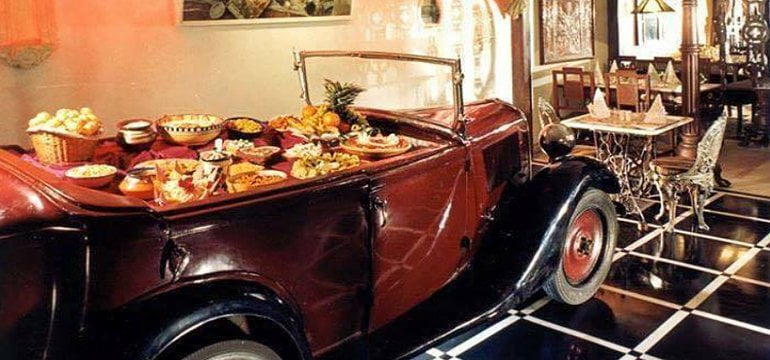 13. Lady Baga – Goa Themed Restaurant
Those who have been to Goa, know what Baga is. It is one of the most popular beaches in Goa, and Lady Baga has brought that beach to Delhi! Well, at least the look and feel. The Goa vibes here are authentic. Full of hammocks, a make-believe beach and digital waves crashing on the walls are proof of concept and execution of the idea! The efforts are note-worthy, and the colorful shacks coupled with authentic Goan cuisine make it the most sought after restaurant in Connaught Place.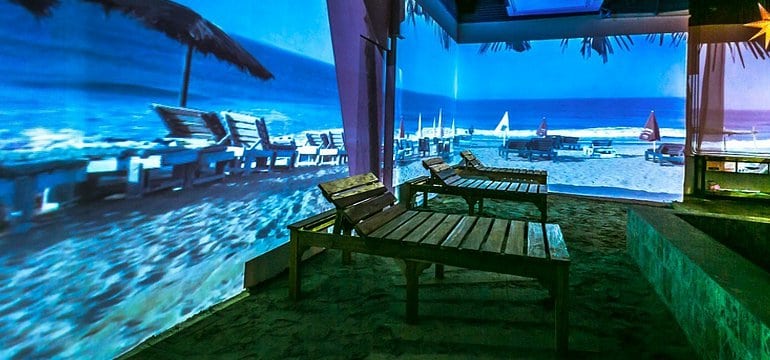 14. Odeon Social – School Themed Restaurant
Another one to refresh school memories, Odeon Social in Connaught Place does a good job at that. Every dinner table has a typewriter and a telephone, giving it the look of a principal's desk! The trophies and books on the walls and the kitchen called 'Home Science Department' will make the patrons applaud the creative effort spent on building the interiors of this place. One of the best themes around.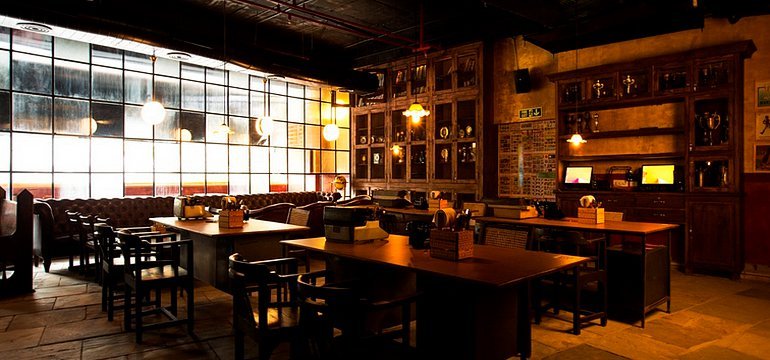 15. Ice Lounge – A chilling experience!
While we all love ice, we don't know how it feels like to be 'in' ice. Now people can experience this thrill! Ice Lounge in MGF Metropolitan Mall, Saket is where one needs to go. The frozen room gets people's teeth chattering. A good way to beat the heat. The food and drinks here are reasonably priced as well. It needs to be on everyone's 'to visit' list.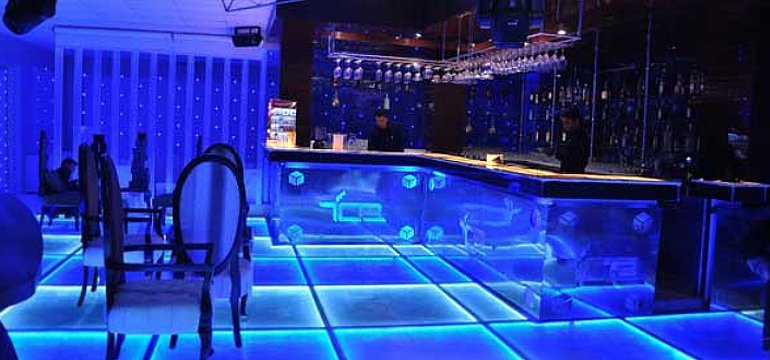 16. Prankster – Back to school
Everyone misses school days, but this place in Gurugram helps them revisit those memories! From the canteen area to the amphitheater, lab rooms and dorms, everything will remind the guests of all the fun they had in school. Surely one of the unique restaurants in Delhi, Prankster should be everyone's weekend plan.
17. IIFA Buzz – Award Show Themed
The name reveals its essence already. This magnificent place is a Bollywood and glamour lover's paradise. From trophies to art and collectibles, there is nothing that will not get you awestruck. The plush interiors will make anyone feel like they are there to attend the popular award show, IIFA and with equally 'high on quality and taste' food, there is nothing that that the patrons won't like. Time to get into that glamorous evening ensemble and walk on that red carpet in Gurugram.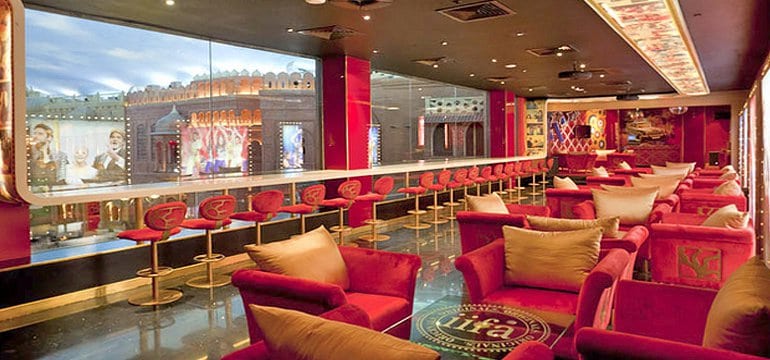 18. Rang De Basanti Urban Dhaba – Movie Themed Restaurant
For all the 'Rang De Basanti' fans, this is good news! The Dhaba has a tractor inside and serves authentic Punjabi cuisine. The walls are painted with Bollywood movie dialogues and also showcase quirky vintage pictures. A must-visit for those who are looking for a Dhaba with a twist! Where? Hauz Khas Village!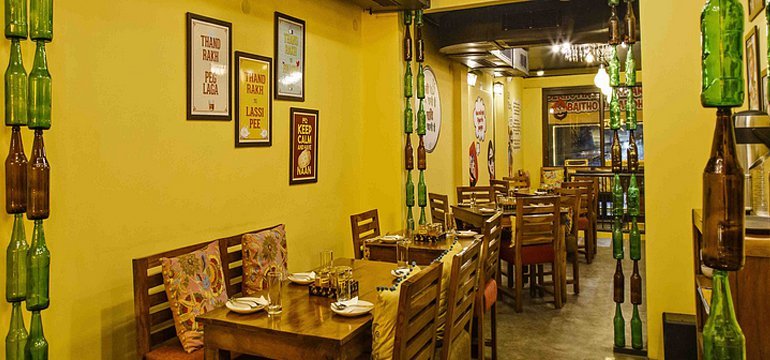 19. Imly – Train Themed Restaurant
This extremely reasonable place gives its guests all the good vibes without burning a hole in their pocket! The restaurant looks like a train and the interiors offer a pictorial journey of India. Majorly serving street food, this is a fantastic place to go to in the evenings. One of its kind, this themed restaurant in Delhi is located in Rajendra place.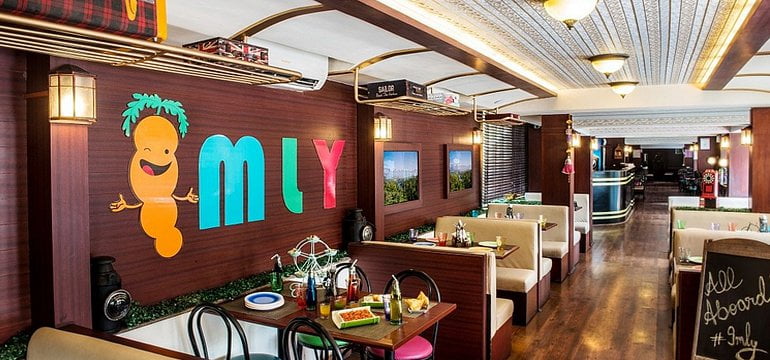 20. Howzatt – Cricket Themed Restaurant
Cricket fans will be bowled over! This restaurant is at the Galaxy Hotel in Gurugram and imagine watching a live telecast of your favorite sport here! Glove-shaped seats, the huge screens and everything else screams 'cricket'. Even the names of the beers here are cricket jargons! The limited food menu doesn't disappoint as there is plenty to drink and plenty to watch on the big screens. Isn't it?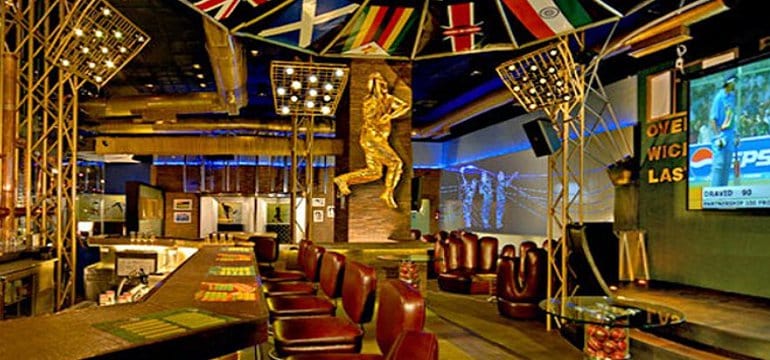 21. Zambar – South India Themed Restaurant
While there are plenty of restaurants that serve irresistible south Indian cuisine, there is none quite like Zambar. This is because it not only serves the authentic dishes from the south but also makes its guests feel like they are sitting in a houseboat in 'God's own country', Kerala! While eating in an enclosure that is a recreation of the famous houseboat, people will feel like they have been transported to the magnificent backwaters. This wholesome experience is a must for everyone who loves south Indian food. Gurugram is where everyone witnesses this beauty!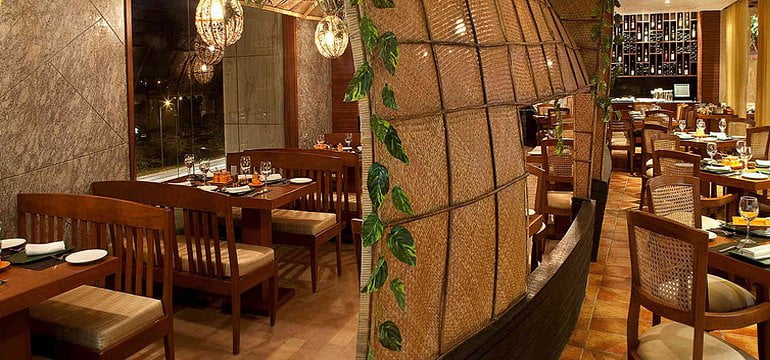 22. 38 Barracks – Military Themed Restaurant
All the army lovers can drive to Connaught Place and enter right in. The trophies, badges, guns, medals, a colonel's clothes, family pictures are all a part of the spectacular interiors. The guests will get a feel of a colonel's home. Even the menu items are named using army jargons! A fascinating place and a must visit for those who are on a visiting spree to unique restaurants in Delhi.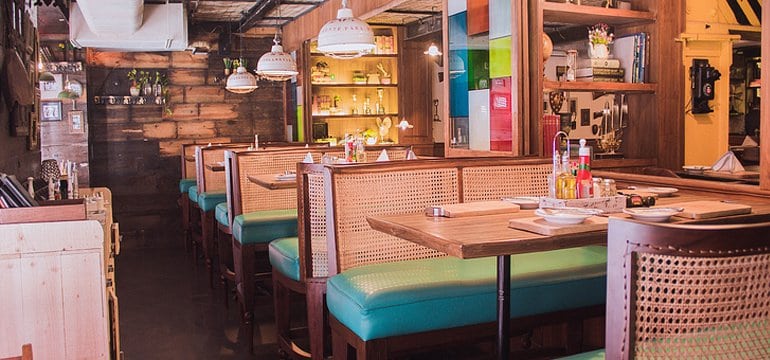 23. Raasta – The Tropical Island Themed
The posters of legendary artists like Bob Marley can be seen in Raasta, a place that gives everyone the same feeling they get when they are sipping on some tropical cocktails in the Andamans or the Bahamas. The comfortable seating and woody interiors exude the truly Caribbean essence of the place. Good food is here and all one needs is a good company to enjoy the evening in Cyber Hub, Gurugram.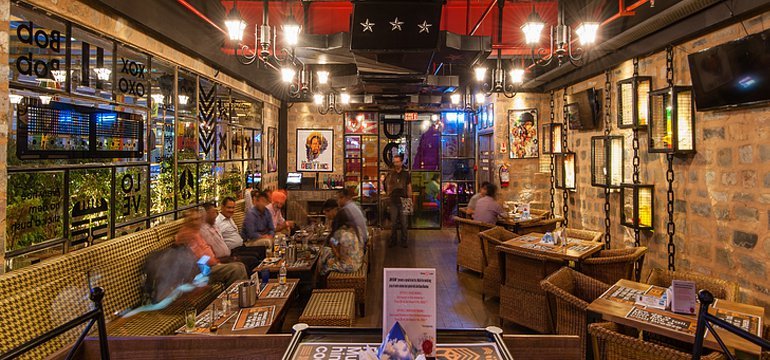 24. What A Comic Show – Comic Themed Restaurant
Comic lovers can head here and get awed by the table mats, lamps and wall art that scream 'Comics'. Oh! And they also have comic book stalls! Is there anything better for the patrons than looking at all of this and enjoying yummy food while they admire the interiors? AND the guests can even pick up those comics and read them while sipping on their favorite beer! SDA is everyone's dose of the comic world.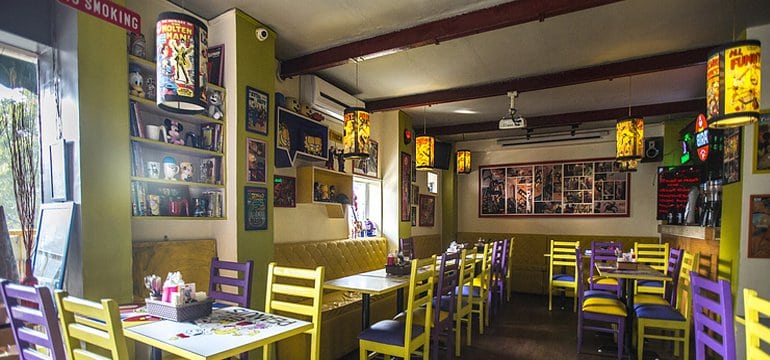 25. Guppy by Ai – Anime Themed Restaurant
The iconography is this really elegant restaurant is anime-inspired. The fabrics, the sculptures, the lights, the guppy courtyard, everything will leave anyone mesmerized. For all the Japanese cuisine lovers, this is the place to be. Worth trying is the guppy signature black cod. A little heavy on the pocket but very worth it. Lodhi Gardens is where this beautiful restaurant can be found.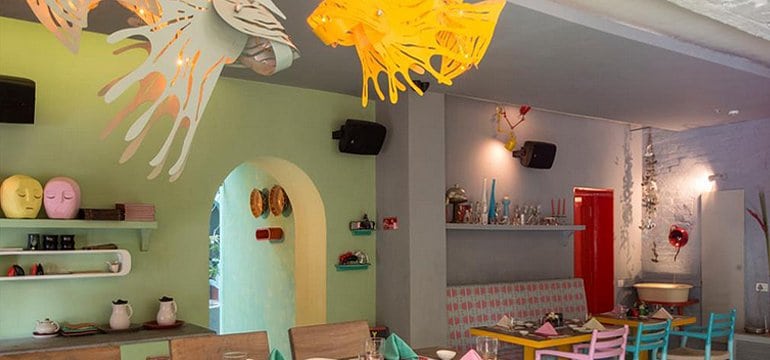 Conclusion
There are so many themed restaurants in Delhi NCR and you sometimes wonder if your restaurant should also revamp itself into a new avatar. Well, whether you wish to revamp your existing space or get a new one, a theme will increase your profits. Once you glamorize your cafe keeping in mind a specific and unique theme, you will see your revenues getting much better. Also, changing the names of items on the menu and updating the same in your restaurant software will help since the menu needs to seamlessly match the decor and the essence of the whole set up.
Among so many cafes in the capital city, you need to incorporate something unique and eye catching to get those people in. If you feel that your location is too crowded with various cafes around, then you should consider revamping your cafe even more in order to stand out from the crowd.
Whichever theme you choose, just make sure that your cafe's interiors and the overall look and feel justify it. Once you are done with your research, go ahead with the implementation, launch your new look and enjoy the newness of your interiors and the revenue!