"Hey, let's hit the bar" and "Hey, let's hit the pub" might mean the same for your customers, but those of you in the industry is not likely to confuse one with the other. Bar or Pub, the difference might be small, and it is increasingly becoming the same today. There are vital differences that cannot be ignored or subdued.
Understanding bars and pubs
Bars are essentially places where people can go and enjoy alcoholic drinks. The main purpose of bars is to give you every variety of alcohol you might desire. While it is a specialized business, it also limits the type of customers you could cater to.
Pubs, on the other hand, are the renovated version of the public houses that were found in Europe since medieval times. Even though they too serve alcohol, it is served alongside food. In simple terms, pubs are somewhere between a bar and a restaurant. So, the emphasis on the quality and variety of food is as important as the emphasis on the drinks.
As a business owner, you have to very careful regarding what you decide to call your venture. The difference might look as insignificant as a "hotel or motel", but nobody searches for motels within the city. What you call yourself goes a long way in deciding your customers for you.
Here are some factors you must keep in mind while choosing between bar or pub.
1. Are you feeding them enough?
A bar is all about the alcohol. People come here to drink and then drink some more. As such, food at a bar essentially centers around appetizers or snacks; something to make the alcohol taste better.
A pub, on the other hand, is like a restaurant that serves great alcoholic drinks too. From appetizers and snacks to meals and desserts, you will find everything here to fill your belly.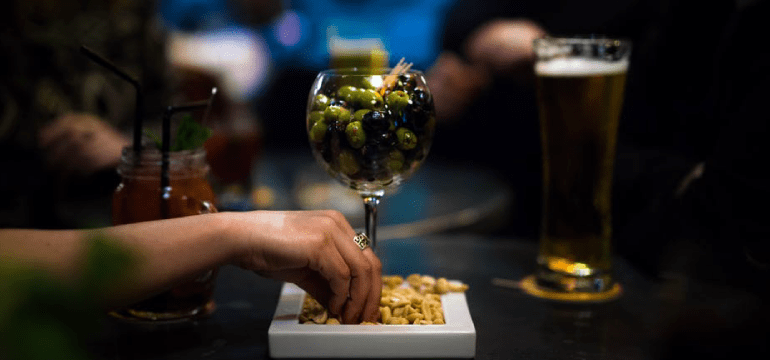 2. Know thy drinks
A bar, like we said, is all about alcohol. For instance, Burger King is expected to serve a wide variety of burgers, because that's what its name suggests. Similarly, a bar needs to offers a diverse selection of alcohol, from the standard beer and vodka to vintage whiskey and rum, as well as some exotic cocktails.
But a pub doesn't have to worry about that. A simple selection of beers, rum and maybe some wine (because it's classy!) is enough to keep the customers happy.

3. See whom you target
Even though both places serve alcohol, they don't have the same marketing tactics. Bars can target a specific audience, and even restrict it to only them. No wonder there is a host of ladies bars, gay bars, biker bars and so on. So, if you are looking to target only one particular community, then bars are the best for that.
Pubs, on the other hand, don't have that power to a large extent. It is not that they can't or shouldn't target different sections of the society. Rather, pubs are simply not about targeting an audience. They are open to anyone and everyone.
4. It's all about the ambience
Even before you take a look at the menu, you can probably figure out whether it is a bar or a pub. A bar is all about the party and fun, so it is accompanied by loud music, dance and a crowd that seems to have gone crazy.
However, a pub is likely to be quieter. You can simply relax and enjoy the food and alcohol. The ambience is calm; accompanied by some soothing music.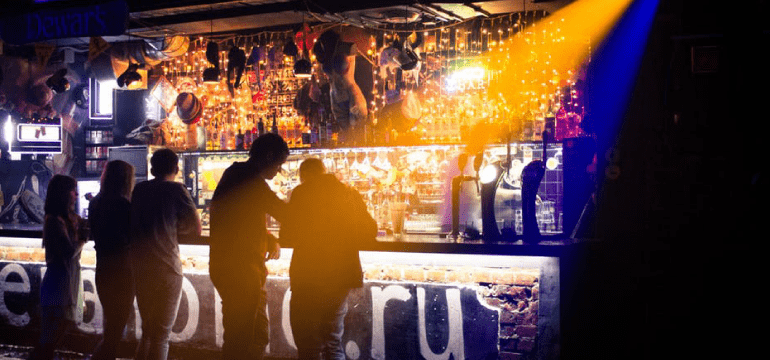 5. Age matters
While deciding to choose between a bar or pub, you must also keep in mind the age of your customers. Most countries impose an age restriction for serving alcohol. Since a bar is primarily a spot for alcohol consumption, there is a clear age restriction of 21 years (the most widely accepted age limit) or above for entry.
On the other hand, a pub is a mix of a bar and a restaurant. Since it also offers food, minors may be allowed to enter in pubs. However, serving them alcohol is still a big no-no.
6. Location matters too
While setting up your business, the location is a major factor to consider. Choosing between a bar or pub further reinforces its importance.
A bar is more of an urban phenomenon where weekends and nights are dedicated to drinking and partying. So if you are located in the thick of the city, a bar is what you must go for.
Pubs, on the other hand, are more common in the city outskirts or rural areas. However, this is changing rapidly and pubs are now found in the towns too. So with pubs, target a wider geographical area.

7. The entertainment factor
As a business owner, you need to keep your customers engaged at all costs. But the "how" of it is a big question. Though bars and pubs appear to be pretty similar, the entertainment quotient differs by leagues.
A bar is all about the thrills, pleasure and drinks. All you need to have is loud music and some skilled bartenders, and the customers would be satisfied. As an investment, bars are usually accompanied by a dance floor, so that must be your priority.
Pubs are the more laid-back cousins of bars. They are meant to be a place where people can sit back and relax while enjoying good food and alcohol. This leaves room for a variety of activities that you could arrange for them. You could arrange games like pool and cards or organize events like karaoke and open mic.
The more diverse the activities are, the more your customers are likely to love your place. And yes… don't forget the calm, soothing music.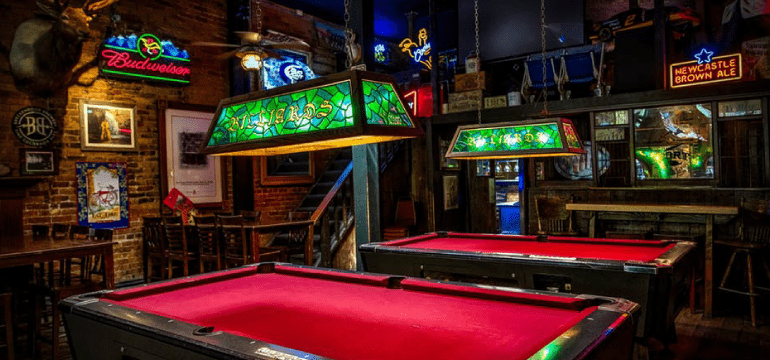 Conclusion
Whether you opt to open a pub or bar is entirely your own decision. But in order to make that decision, a careful analysis is always required. Even though most customers are themselves not aware of the difference, they do know what they want to expect from the place they are visiting. With that knowledge, you could easily decide your business model and run a successful bar or pub.
Whatever the decision, don't forget to buy a comprehensive restaurant management software to simplify different aspects of your business and make life easier.