All the world loves a 'healthitarian'! Yes, in the era of millennials, every aspect of this world has taken a twist; be it growing virtual communications or unhealthy food habits. Or is it? Actually, no. Health is back in 'fashion'. It is no more a healthy 'habit' to eat healthy food. It has become a style statement instead! You will often hear people saying 'I'm vegan'. The term was unheard of a few years back until the new generation got it into existence and how.No prizes for guessing on who needs to follow suit… Your bar. Yes, even though you are known for offering alcohol and junk, you need to make this one smart move with a healthy bar menu to rake more profits in. You are unknowingly missing out on a lot of customers owing to their mindset that 'bars serve unhealthy food and drinks'. You need to reverse this mentality and convert it into profits for your bar. There is no need to revamp your entire menu as you can convert your existing 'junk' into healthier versions.


5 Quick Tips To Revamp to a Healthy Bar Menu –
1. The burger
It can be startling to see this in the list but there is a way to do this right. A burger is probably the king of junk food but if you tuck in some iceberg lettuce and slip out the cheese, you have what your 'health conscious' guest is looking for.
Try and whip up something which takes out all the fatty and unhealthy ingredients while replacing them with healthier options. You could also introduce a whole new 'organic' burger that is specifically prepared for those who are looking for a treat that is both healthy and tasty.
2. The salads
A salad is already healthy but to play with your guests' psyche you need to be a little smarter than that. Introduce a new one on the menu that is full of one main nutrient.
High-protein salads like the spinach and almond salad or an apple tuna salad are not only creative but power packed accompaniments to alcohol or any other beverage that your health conscious patron might choose.
Also, since these salads are so focussed on health, they can be priced slightly higher than usual and your guests won't even mind paying a few extra bucks in exchange for good health.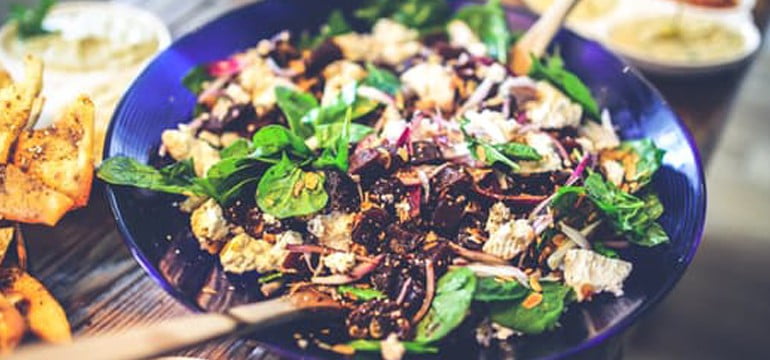 3. Just rename a few of your existing food items
It's the best option of them all! You already have some healthy options in your existing menu. Look closely… Brown rice food items, baked nachos, bruschettas, tacos, tomato soup, yoghurt, popcorn, etc. Just go through your existing menu and mark all such items as healthy.
You could use a green or any other icon to signify that this particular food item is healthy or fat free, etc. This will make it easier for health conscious guests to spot the healthy options quickly. This existed in your menu forever and they never knew it until now! You didn't either, did you?
4. Whoever said all alcohol is unhealthy doesn't know a thing
Well, yes! When you have mojitos, red wine and bloody Mary, you can't go wrong! If people don't already know, educate them. Let your menu have a tiny 'health' or 'nutrition' factor next to the alcoholic drink.
For instance, red wine has heart health benefits when consumed in moderation while mojitos have a much lower sugar component than rum and coke put together. Bloody Mary is low on calories and since tomato is involved, health benefits are attached to this traditional cocktail.
Research on your existing bar menu and figure out all the drinks that are healthy for your patrons and when you mention that alongside the alcoholic drink, people will take notice and order one over the other. In doing so, do remember to take into account the more expensive alcohol in order to help your profits.
5. Healthy desserts
This is another incredible option to offer. When you add some nuts, take out the sugar, have yogurt as an ingredient and add fruits on top, you have something which is not only healthy but scrumptious as well.
Add one or two such desserts to your menu, and of course, since nuts and exotic fruits are involved, the cost has to be higher than usual.
These twists in your menu are certain ways to capture your health conscious target group. Advertise and market this as much as possible and your profits will do a happy dance for you pretty soon. Once you have established a way to get the attention of your patrons, they will choose your bar over others since they are able to enjoy here while keeping their health in check.
However, don't forget to update your restaurant software with all these ingredients and menu changes in order to ensure smooth operations. When everything is sorted, you are ready to go all out and seize the opportunity of being the healthiest bar in town! Now, who is having the last laugh?