Automation is increasingly being used by establishments in the food and beverages sector to drive productivity. There are tools to help scale up and manage every aspect of an eating establishment efficiently, including preventing theft and pilferage. Driving this automation movement are restaurant software programs and POS hardware products, such as RanceLab's FusionResto.
FusionResto has helped close to 35,000 establishments in 40+ countries to serve their guests and customers better. In the process, it has helped restaurants, bars, and cafes to streamline business processes, automate manual and repetitive tasks, and gain access to insight which helps manage restaurants more efficiently.
Let us take a look at how the F&B industry is witnessing a revolution of sorts thanks to restaurant software such as FusionResto.
1. Savoring the goodness of automation, end-to-end
The unique needs of a restaurant or a bar compels for a special approach towards developing an ERP that can manage end-to-end operations of the business. A restaurant software doubles up as an ERP that integrates point of sale, food costing, menu engineering, inventory management, and other restaurant-specific solutions alongside traditional ERP modules such as payroll, analytics, loyalty program, and CRM.
FusionResto provides a complete restaurant software solution to all kinds of F&B establishments. By automating manual tasks and helping streamline everyday business activities, FusionResto helps businesses grow quickly and serve customers better.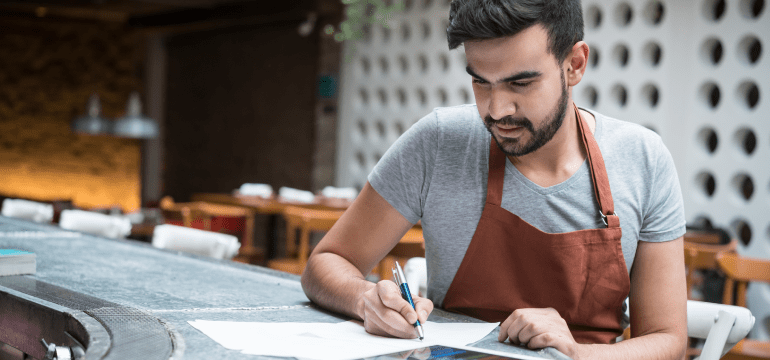 2. Helps you go mobile quickly
With most customers using smartphones, it makes sense to let them order right from their mobile devices. Mobile POS technology helps you do just that and lets your customers order directly from the table. Servers and waiters can easily manage on-site orders, while managers can automate promotions and send push notifications to customers.
Orders are quickly communicated to the kitchen via a Kitchen Display System so that expedited service becomes a reality. Mobile features include payment via smartphones, which is safe and secure, and helps you gain your customers' trust.
3. Better insight and reports, and enhanced customer service
One of the most important features of a mobile restaurant POS is it helps you access real-time reports. You can quickly get a clear picture about profits, number of customers, average sales per hour, table turn statistics, etc. You can also gain insights about your customers so that customized service becomes a reality.
Making home deliveries is easier too, thanks to inbuilt online order management features. Your employees will no longer have to answer calls and take orders manually. Instead, they can serve customers who are already in your restaurant better.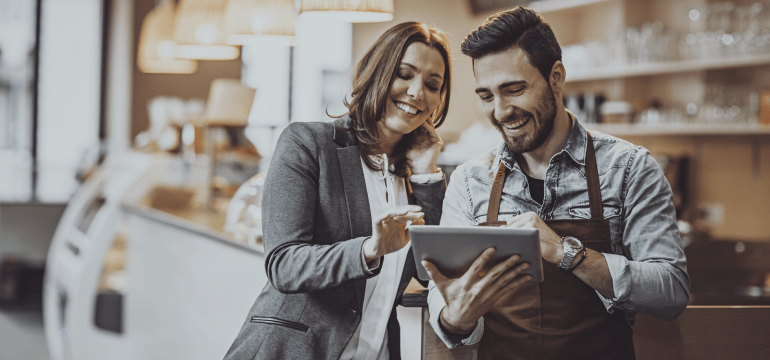 4. Enhance customer satisfaction scores
One of the most important steps in ensuring better service is understanding what your customers wants, and what they genuinely feel about your restaurant. Customer feedback helps you to gain valuable insight that will not only help you to enhance satisfaction levels, but also gain valuable insight related to the market you serve.
A good mobile restaurant POS such as FusionResto can help you automate the process of collecting customer feedback, eliminating the need to get them to fill up feedback forms after a sumptuous meal. You can quickly address complaints, avoid negative reviews online, and ensure enhanced customer satisfaction scores.
5. Monitor online and social conversations about your brand
Customers increasingly discover restaurants online, and leave both positive and negative reviews on social channels. To make sure that you are discoverable and that you attend to negative reviews on social media, you should develop a digital brand identity and actively engage your customers online.
This includes posting regularly on Instagram, Facebook, Twitter, etc. and handling customer complaints online. Many of these tasks can be automated with the help of a restaurant POS, and FusionResto helps you do that right on your mobile phone.

Use FusionResto to scale quickly and reap profits
As you can see, FusionResto helps you manage and streamline your business activities in an extraordinary manner. It helps you automate most manual tasks, generates reports that are useful to gain insight, and helps you enhance customer satisfaction, In other words, it helps your restaurant brace for the future and scale up quickly as it grows. For any queries regarding how FusionResto can specifically help your business, contact us today.