If you own a restaurant, a menu is one of the most influential communication tools you can have for your customers. It not only gives an idea about your restaurant to the guests and lists the delicacies on offer but also reinstates your brand and personality in their mind. It is essential for the menu design to be enticing enough for the customer to place an order. Apart from what a waiter or waitress recommend to the guest, menu descriptions are a vital factor that determines what finally gets ordered.
In fact, your food menu description is more important than you think. Often, customers who visit your restaurant for the first time decisions based on the menu description whether they would like to eat there or give it a skip and visit another diner! So, you can't afford to overlook its role in determining the fate of your business.
Here are some things you can do to make your menu descriptions appealing to customers:
• Categorize Items
Don't make a beginner's mistake by categorizing your food items wrong or not categorizing them at all. It is a fundamental rule, but a lot of people ignore it. List your menu items in clear, well-defined groups.
Starters, soups, entrees, burgers, sandwiches, pizzas, desserts and so on should each have their little category on the menu and usually, in the order, they should be eaten. Desserts should come at the very end.
If you put your entrees on your appetizers and soups, a guest might just skip to the main course instead of order an appetizer. If you have both vegetarian and non-vegetarian dishes on your menu, have separate sections for them as well. Create a digital menu for the food that you serve your guests for the ease of order processing.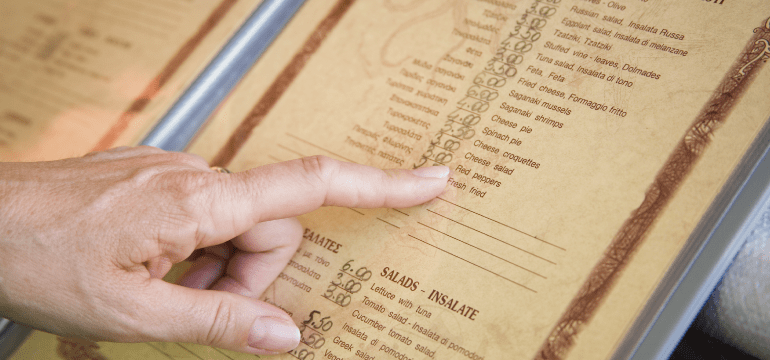 • Size is the Key
Each of your menu descriptions should ideally be of the same length. It may not necessarily be equal, but you should avoid a prominent difference between any two descriptions. It helps in organizing your menu and making the descriptions stand out without getting lost in the crowd.
The trick is to keep your menu descriptions short and crisp. At the most, use one to two lines. Of course, this can change depending on the type of restaurant you run. For instance, an upmarket and fine dining restaurant can have more extended menu descriptions. Just remember to keep them brief enough to capture your guests' attention.
Similarly, if you own a fast food restaurant and have a menu board instead of individual menus, then the crisper the description the better it will be to increase crowd. Customers should be able to quickly read the description and place their orders so that the next customer can do the same.

• Number of Items
You might be thinking that if you have a huge number of items on the menu, it will create an impression of variety and capability. However, that is a wrong idea. It will, in fact, hurt your sales figures.
Customers take much longer to decide what they want if you offer them too many options. As a result, this slows down the time taken at each table and you end up serving fewer guests.
Another reason is that a long menu ends up confusing people. As a result, they may be unable to identify dishes that are your specialty. This could disappoint them. You should concentrate on your own specialties and unique offerings that only your chef can make really well. This will get your new customers as well as old ones who keep coming back.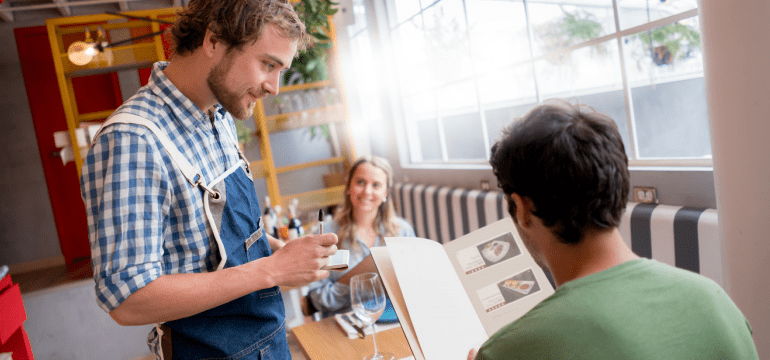 • Language Matters
When writing the menu descriptions, the main emphasis should be on taste and texture. For example, seared pork loin, blackened pork chops, a salad with crunchy almonds – these make good menu descriptions.
Your guests should be able to taste the food by just reading the descriptions virtually. Particular focus on the senses, especially taste, lends an extra appeal to your dishes.
Use words that your target customers will be familiar with as much as possible. If the name is uncommon, your description should give a satisfactory explanation.

• A List of Ingredients
You might think that an ingredient list is redundant, as your menu items are pretty self-explanatory. You are wrong. You need to list the main ingredients of a dish right there on the menu itself.
A lot of customers have food allergies these days and you want to reassure them by stating what you use in your food in black and white. Your guests should know what they are going to be eating.
Another advantage is that describing the contents of a dish allows your customer to know what will be coming to the table. If a customer is unable to choose between two dishes, seeing their favorite vegetable or fish in the description can be what makes them decide.
On the other hand, if you have made an innovative change to the dish ingredient you are serving and it figures nowhere on your menu, you could be missing out on a great opportunity!
No Change Makes a Menu Dull
If you think that you can keep your menu the same forever and that will please your customers no end, then you couldn't be more wrong. The best restaurants are the ones that keep changing with the changing times – the menu being one of the items on the change list.
This tempts the guests to keep coming back to try the new dishes. However, a common practice is just to make a handwritten correction to the existing menu, if a new dish is added or removed. This does not make a very good impression on the customer reading it. It reeks of sloppiness.
You might not want to spend too much on expensive paper and printing the menu, as a small change will also cost you money. Go for a binding or elastic menu that will let you add an extra page with ease. This makes adding new items to the menu a cakewalk. But remember, introduce new menu items only when they are ready, and not in the trial stage.
While you are up hauling your menu descriptions, also try using trustworthy restaurant management software to automate manual tasks and save time and effort, since that can go a long way in making your operations more efficient.