The event, NASSCOM Emerge Kolkata 2012, was an initiative by NASSCOM, held on 12th January, 2012 at Hotel Hyatt Regency, Kolkata.
The theme for the event was Sustain Your Business will focus on customers, employees and competitors.
Key takeaways from the event
Knowing the opportunities in different international markets
Finding and keeping the right talent
Understanding the customer needs
Sustain your business with cutting edge technology
How to generate revenue in the world of free
Brand building
The event, followed by NASSCOM Emerge East Showcase, where contribution from various companies was appreciated and awarded.
RanceLab® has been chosen as a Software company from East India, focused and specialized into Retail and F&B verticals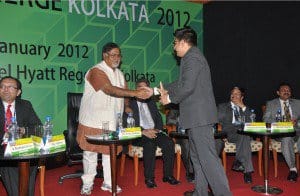 Mr. Nilesh Shah (Director), receiving award from Shri Partha Chatterjee, Hon'ble Minister, Department of Commerce & Industries & Information Technology of the Govt of West Bengal at NASSCOM Emerge Kolkata 2012.