Some of India's top sit down eateries are building on the wisdom of fast-food chains, saying bon appétit at the doorstep of patrons who are cutting expenses by eating out less.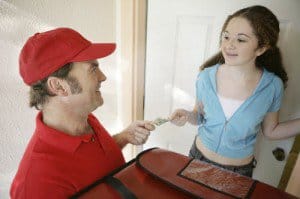 What is making home delivery preferred over full-service restaurants?
To the people
Now a days people want more delivery, as they don't want to go out to eat in this market environment
Changing lifestyles, issues around the travelling and the overall slowdown in the economy have aided the growth of the food delivery business in the country.
The foods served by some of the home food delivery service are just like the food cooked at home. They are healthy and are prepared on the basis of the various diet programs.
Food delivery systems are very convenient. The food is ordered, delivered and consumed. There is no struggling to remember ingredients in the house or trying to pore over recipes and make grocery lists. Food delivery systems are perfect for busy individuals who do not have time to shop every week. Food delivery systems are also beneficial to those who cannot get out of the house to shop, such as the disabled or elderly.
To the restaurants and eateries:
There is an increased awareness among restaurateurs that they can improve capacity utilization by doing deliveries.

It's a more efficient use of fixed cost of a restaurant, which improves return on investment, especially in this market environment.
Growth
Although home delivery of food is part of the services offered by family restaurants, it's over the last 15 months that these eating joints have started sprucing up their systems to keep cash registers ringing.

Growth of full-service restaurants, generally considered a barometer of economic health of a nation, has slowed in India from an annual 25% to about 15% in the last two years. It, however, remains the fastest growing part of the country's hospitality sector.
Experts say home deliveries for full-service restaurants in India are growing at 25-30% year-on-year.
The share of home delivery in business is expected to rise from 2% now to over 10% in six months.
Industry Feedback
Main Land China: The latest to jump onto this bandwagon are fine-dining chains Oh! Calcutta and Mainland China. Home delivery offers 5-6% higher net margins, said their owner AnjanChatterjee, who has hired a logistics head and is outsourcing delivery backend.
Bercos: For Bercos, a Delhi-based Chinese restaurant chain, home deliveries account for 20% of business, double of what it was a year ago. "We are now looking at setting up smaller 50-seater restaurants with bigger delivery operations," said managing director KabirAdvani. Home deliveries have become popular in Saket, Connaught Place and Janakpuri areas of the city and the satellite towns of Gurgaon and Noida, he said.
Oriental Cuisines': Oriental Cuisines' Wangs Kitchen, which has outlets in Chennai, Bengaluru, Kolkata and Hyderabad, has a dedicated call center and gets 40% of its business from home delivery."Business from deliveries has almost doubled over the last two years. We found this was an untapped potential in the market," said NarendraMalhotra, its chief executive.
Pan India Food Solutions: For Pan India Food Solutions, which runs Spaghetti Kitchen and Noodle Bar and has exclusive rights to the Copper Chimney brand, home deliveries account for almost 15% of its restaurants' business. The company has introduced a lower priced menu for home deliveries."The average bill for deliveries is about 30% lower compared with that for dine-in guests, as there are no beverages," said Jaspal Singh Sabharwal, partner, Everstone Capital, which has an investment in Pan India Food Solutions.
SagarRatna: Sales through this route have also shot up for SagarRatna. The south Indian food chain, which till about two years back had shown little interest in home deliveries, said deliveries account for almost a fourth of its business, up from 14% earlier.
Challenges for Restaurants and Eateries
Price: One of the biggest challenges of food delivery systems is the price. When the food is ordered for more than one person, the expense is typically equal to eating out at a nice restaurant every night. Many food delivery systems cost upwards of $20 per day per person. Some systems cost even more. For individuals who have a limited food budget, food delivery systems are often too expensive to make their benefits worth the cost.
Limited Menu: Most food delivery services have a limited number of meals that they offer for consumption. Every few weeks or months the menu will change, but if you stick to the system for more than a few months the menu items will become repetitive. You also must eat the meals delivered for that week. If you do not feel like eating that particular meal, then you will either have to order a different meal from somewhere else or go ahead and eat the meal that you dislike.
Preparation: The preparation factor can also be a disadvantage to food delivery systems. Most food delivery systems deliver frozen meals. The food still has to be prepared before it can be consumed. Preparation is usually simple, but since the meals are frozen they usually have to cook for over an hour. To avoid the long cooking times, it is possible to remove the food from the freezer the day before. However, you have to remember to remove the food to cut down on cook time.

Acknowledgement
I would like to thank Mr. Ravi Teja Sharma, The Economics Times , 25-Feb-2013, NEW DELHI, without whose insight and contributions, portions of this article may not have been possible. The original article can be found here.