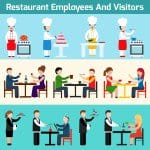 Wondering how your competitor's business is attracting customer's all of a sudden? It can happen that they have taken the advantage of some smart tool and have left you behind. You could be missing out on the latest innovations in the food industry, the smartest kid in the block – Mobile Apps.
Mobile Apps have taken the F&B industry in a light speed. Today when a customer comes to have food in a restaurant, after taking time from his busy schedule, a long wait for a wait-staff to take his order is a real ordeal. A smart restaurateur would not keep his valuable customer's waiting. After all a happy and satisfied customer means repeat business.
FusionMobi, makes your customer's happy as well as earns greater revenue's and better reviews for your business. Its variant and effective features are made, keeping in mind the nuances of the restaurant business is praise worthy. Lets take a look.
i) E-menu – Customer's front – Digital menus with proper food image and ingredients mentioned, helps customers instantly connect with the item, thereby aiding in making choices sooner.
Owner's front – With e-menu, ordering is 10 times faster, smoother and error-free. Revenue per customer is higher than pen and paper tickets. You can edit, delete information without any fuss. Cost of printing the paper menu is huge as it involves labor and supervision.
ii) Feedback – As an owner, feedback is always welcome and a great source of improving service and food quality. But wasting pen and paper and losing the valuable time is just old-school. With FusionMobi fuss free feedback enables timely data gathering, no double work of putting them digitally, no team required to evaluate, no fear of losing data as it automatically gets stored in your server.
iii) KDS – Kitchen Display system replaces manual order tickets. It gives a better vision of orders to the chef, preparing food in the kitchen. Notifies waiting customer's when their food gets ready. Reduces work pressure of the wait-staffs and they can know their customer's preference's better.
iv) Reports – With reports on cloud, FusionResto, provides a real time report of your business when you are away. Depending upon your sources is no longer required as the software itself gives you accurate data.
RanceLab® FusionMobi is a collection of coolest mobile apps for restaurants. It plugs into your FusionERP seamlessly. With FusionMobi, important information and essential features are always at your fingertips.