Start -> Program -> RanceLab-> FusionRetail6 DataMigrationTool
Important Notes:
1. This tool is used to migrate the data of RanceLab 5 to RanceLab 6.
2. This tool is NOT required for migration of RanceLabdata toRanceLab. The migration is done automatically.
This tool will help you to upgrade your exiting database of RanceLab 5 to RanceLab 6.

Key Information
We recommend you to close RanceLab 5 application on all computers before you run this process.
Please ensure your RanceLab 5 version should be equal to or higher than 5.0.215.103
DataMigrationTool wizard will start that will guide you through rest of migration process.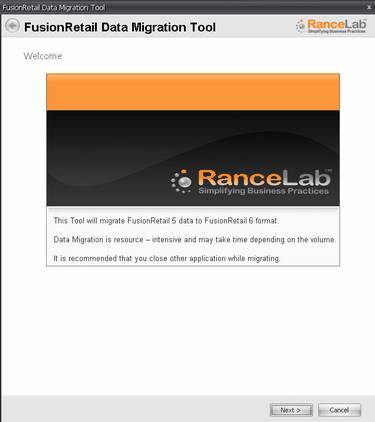 Click "Next" to proceed. Specify the settings as described in table below
| | |
| --- | --- |
| Server | Select the database server from the drop down list. |
| Authentication Type | Select the authentication type. Choose "SQL Server" |
| User Name | Specify user name. Default "sa" |
| Password | Specify password. Default blank |
| From FR5 DB | Select the RanceLab 5 database from the drop down list. |
| To New RanceLab DB | Specify new database name |
Click on "Would you like to use an Automatic Process?" This will enable wizard to upgrade database automatically without asking any further questions.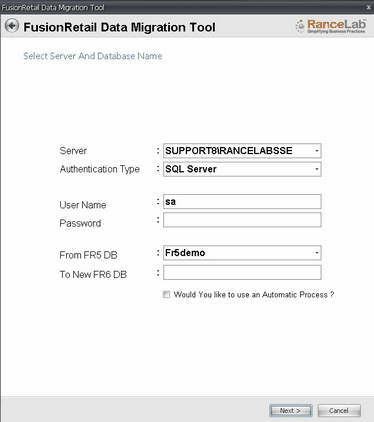 Specify settings correctly as shown in picture below and click "Next"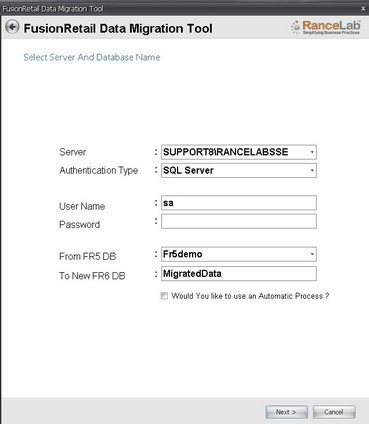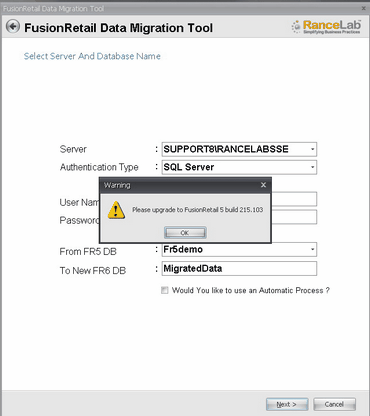 You will be prompted to update your RanceLab 5 to release 215.103 in case you're running a lower version.
Please note, you have to restart the whole process by updating RanceLab 5 to specified version to continue.
After all the settings are specified, migration process will begin. (as shown in picture below)
Click "Migrate" to begin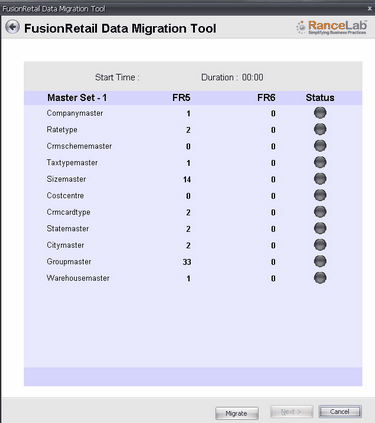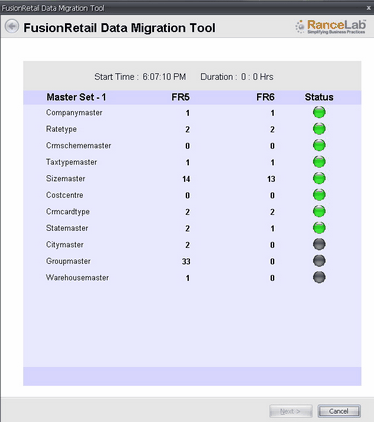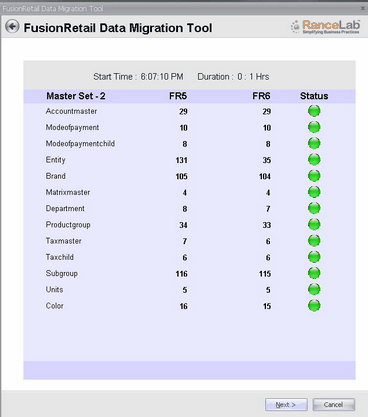 After successful completion of data migration following screen will be displayed.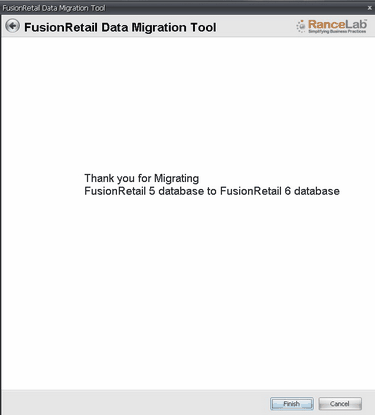 After the migration is complete, the two files mentioned below are generated in the folder containing the migration tool.
•migration.err – is generated if there are any errors during the migration process.
You can also print a Migration Report which provides you with the following details:
• Date of Migration
• Migration start and end time
• Time taken to migrate from RanceLab Version 5 to Version 6.