Answer:
Please use the following steps to install Bixolon Ethernet configuration Driver.
....
Step1: Installing Ethernet Configure Setup.exe
click on the installation icon
the following screen will appear, click on Next
....
Step2:  Now Install BXLVCOM4ETHERNET Installer Ver 1.0.1.exe
After accepting the license agreement click on next
Click on Continue Anyway button it will lead to the success of the installation   
...
Step3: Configuring the IP of the Printer
Turn on the printer.
Go to Start > Programs >Bixolon > Configure and Execute Configure Tool. It will open the configure tool. Click on the Search Button to search the printer in the network.
It searches the printer automatically and defines all the fields. Please check the IP address it must be in the same domain as per the network.
The MAC address is showing in the left hand side (Board List).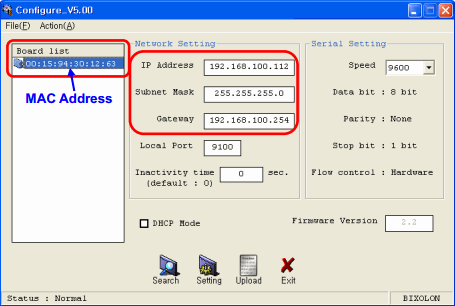 After all the setting click the Setting button to save the setting.
Click the Exit Button to exit from this form.
Step4:Configuring the Virtual Port
Go to Start > All Programs > BIXOLON > BXLVCOM4NET > Configuration tool
Click on the OK button
Click on the "STEP-1 Printer search" button of the current screen this will search an Ethernet BIXOLON printer automatically.
Press the exit button to exit from this form.
Note: Your installation is complete now
For more information Please visit:
...