Third Party Device
Transaction
New button KB has been added in the Customer List screen. Click this button or press CTRL+K in the Customer List Screen to get the on screen keyboard. Then type the search string in the keyboard and touch/click enter key to search the customer. It is very helpful to search a customer in the fully touch screen based TouchPOS terminals.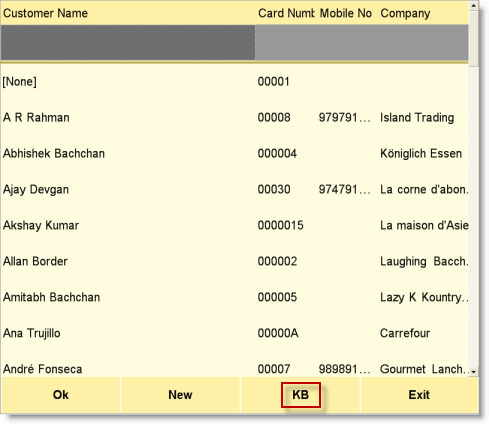 Option
Privacy Settings

Show Other Information

Set Yes to show other information like Company, Birthday, Anniversary, Mobile, Email ID, Total Sale, Credit Limit and Due etc else set No.

Show CRM Point details

Set Yes to show CRM Point Details like Opening, Earned, Redeemed, Closing and Remarks etc else set No.
.
Report
New columns Picture1 and Picture2 have been added in Stock Replenishment Report (W > A > Q). It shows product photo in the report. Before this please set "Show Images in Report=Yes" in the Global Option (T > A > G)