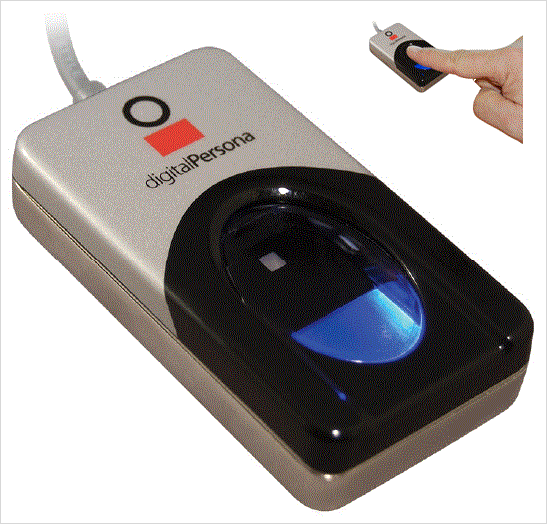 Step 1: Download the drivers:
Download  Fr6ThirdPartyDrivers.exe from here
Run the above file to extract its content to C:\FusionRetail6\ or the directory where FR6 is installed. Before extract make sure that all the applications of Fr6 are closed
Install Setup.exe from C:\FusionRetail6\Fr6ThirdPartyDrivers\DigitalPersonaRTE
Then restart the system
Now plug in the DigitalPersona Finger Print Scanner to USB port. It will detect the driver automatically.
---------------------------
Introduction: Fr6ThirdPartyDrivers.exe: 
RanceLab® FusionRetail™6 Third Party Drivers: These drivers are required by RanceLab® FusionRetail™6 to integrate some devices. It installs all the necessary drivers and dll files required to integrate 3rd party devices. Please choose the installed folder of FR6 during the installation.
---------------------------
Step 2: Edit C:\FusionRetail6\FR6.CreditCard.xml file:
Open C:\FusionRetail6 \FR6.CreditCard.xml by right clicking and open in Notepad
Go to the bottom of the file
And then type the following changes as shown in the picture below; please skip this if the changes already exist.

Step 3: Enrollment of the User with Finger Print Scanner:
From main go to the User Master (M>O>U)
Create the user and then save
Again select the created user in modify mode by pressing 'Alt + L'
Press 'Alt + F' or click on "-F Finger Scan" button to enroll the user
Now it will prompt you to Fingerprint Enrollment screen stating message say "The reader connected" as shown in the 1st picture below
Scan the finger by placing it on the oval shaped blue led off the Finger Print Scanner. Keep continue to placing your finger each time whenever it shows message say "Captured, Scan again" as shown in the 2nd picture below. You have to scan your finger repeatedly until it shows message say "Fingerprint accepted" as shown in the 3rd picture below 
Click "Ok" and then click "Yes" to save the finger scan data.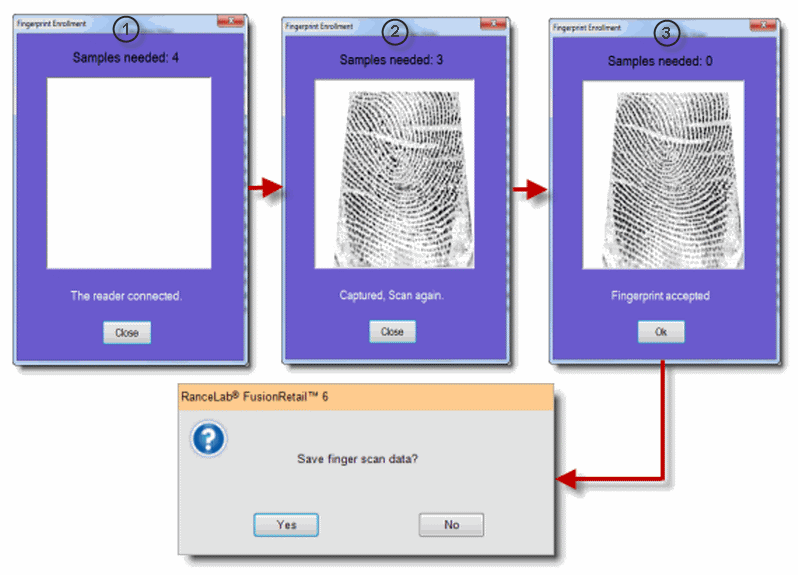 Step 4: Enabling FusionRetail 6 for Finger Print Scanner based Log in:
In the log in screen of FusionRetail6, press 'Alt +F' or click on "Finger Mode" button to get "Fingerprint Verification" screen
Place finger on the oval shaped blue led off Finger Print Scanner to get fingerprint verified. After successful verification it will show the message say "The fingerprint was VERIFIED" and will log in.
Note: 
In every log in by default it will prompt to "Fingerprint Verification "screen. However you can change log in type by clicking on "–N Normal Mode" or pressing 'Alt + N'.