For example: In the Durga Puja festival we had used a price list of 15% discount. For Diwali modified the same to 20% discount. Also for Christmas and New Year I want to maintain price list @7% and 10% respectively. 
Now how do I track that what type of price list we had used in every festival and how much amount we have had discounted in a particular festival? 
Solution:  Create different Price List for different festivals and then set them in Sales Option. This way you can track what type of price list you had used for each festival and how much amount you have had discounted in each festival separately. This is also helpful to plan and set the prices in advance for an upcoming festive season. Steps are given below;
In order to create different price lists please visit;
http://www.rancelab.com/help/fr6_price_list.htm
Assign the Price Lists to be effective from a particular day:
From main go to the Sale Invoice (Scan POS) (S>T>S)
Press Alt+O
Go to the Price List field and press enter key
Set the price lists as shown in the picture bellow
Click on Ok
Press Alt+S to save the Sales Option.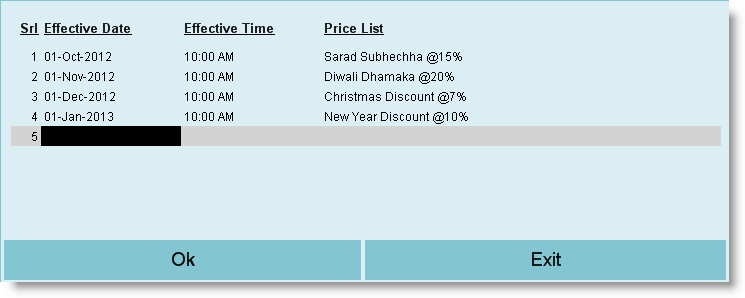 Note:
You can apply above strategy both for Purchase transactions and Sale transactions.
It can be applied both for Scan POS and Touch POS transactions.
.
.