A front desk at a hospitality property is the place where a guest comes face to face with hotel staff for the first time. More often than not your guest has made a tiring journey and would like to be shown her room as soon as possible. A good front office management solution automates the check-in process to a large extent and makes it the fastest possible.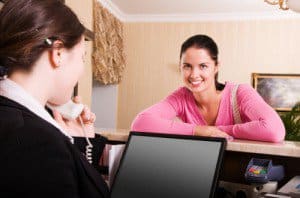 The final billing process also takes at least half an hour prior to the check out timing. An effective front office works as a queue busting tool in those busy morning hours, when invariably each guest has a flight to catch, and makes the guest feel so relaxed that she would love to come back here for another stay.
As automation makes its way into many parts of a hotel, many choose to adopt technology at their front desk too. However, front office management is more than just the reservation process and when a software is adopted it effectively needs to automate all front office functions, except of course, your receptionist's warm greetings. It helps you with a good bunch of facilities that help you to get rid of those junk front office loads with a few easy steps, without long hours of training.
Highlighted activities of front office are:
 Reservation: Accurate reservation for individual, groups or corporate.
 Group Reservation: Front office bill to group owner, individual or company.
 Reception & Guest service: Overall improved guest experience.
 Profiles & Guest History: Guest information and preference in detail.
 Cash & Deposits: Easy payment collection using mixed modes of payment.
 Night Audit: Ensures correctness of front office transactions.
 Flexible Rate Plans: Rate charts for rack rates, seasonal, corporate and travel agents.
 Demand Forecasting: Multi-colored room status with on-screen access and control.
The front office serves as the gateway of the entire business process and the guests form their first and last impressions about the hotel and its services from the efficiency of this section.
Download a FREE demo copy of the FusionPMS software for your property – be it a hotel, resort or a chain of properties.