Restaurant owners have recently begun to artificial intelligence to enhance customer experiences and optimize operations. This has led to the generation of valuable data from which rich insights may be generated. While artificial intelligence may help automate and reduce dependence on manpower, data derived from these activities can help predict outcomes and improve dining experience for customers. By roboticising repetitive tasks, restaurants can simply focus on building valuable relationships with guests at tables and focus on hospitality. Data derived from AI can help make better recommendations and ensure that customers always get what they want.
In this article, let us take a look at how artificial intelligence is fueling a data-driven dining experience.
1. Enables smarter decision making
AI tools chatbots have become quite common lately, and many restaurants have started to urge their customers to place orders on AI-enabled applications. Data from these applications can help derive rich insights about what diners want, how they purchase, and what makes them tick. In addition, AI can also be used to track table occupancy, recognize facial recognition, and use behavioral insights to make better and smarter decisions about restaurant operations. Inventory management is an area that specifically benefits from data derived from AI-enabled devices. While only bigger firms have been using these technologies, slowly AI-enabled technology is becoming affordable for smaller restaurants too, on shared platforms.
2. Enhance customer experience
One of the most important benefits of artificial intelligence is how easy it makes it for a customer to leave happily. Right from placing orders to getting food quickly on the table, AI can help ameliorate most restaurant operations. For instance, many restaurants have begun to use AI-enabled menu creation, which studies of customer data and makes changes to existing menu depending on what they want. AI can also instruct your ERP to keep certain ingredients and groceries in stock, as they are more likely to be ordered on certain days or during certain times of the day. Finally, nothing beats AI in providing excellent customer care, especially when it comes to booking tables on Facebook and elsewhere online.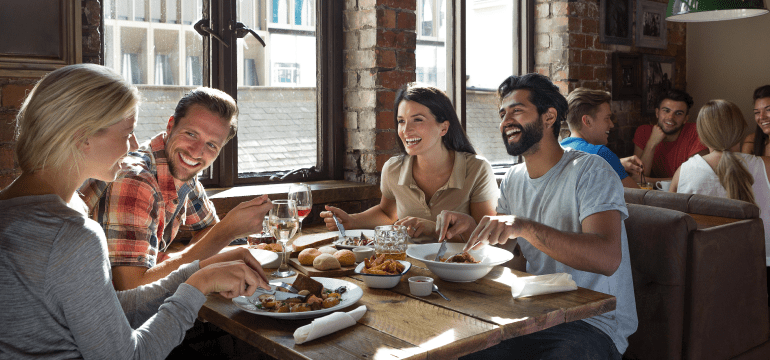 3. Roboticise manual and repetitive work
If you haven't heard about robotic technology that can assist restaurant owners, you surely need to play catch. Now, AI-enabled robots can perform many manual tasks such as flipping burgers, and assist in kitchen operations. What's more, you can even use certain robots to clean the floor and help ensure a great customer experience. Data from robotic devices can be used to improve housekeeping and ensure efficient restaurant operations. Momentum Machines is a great example of artificial intelligence taking to kitchens. This technology can flip 400 made-to-order burgers in just an hour. Data from such a device can be used to build better tools in the future.
4. Make placing orders fun and interactive
If there is something that customers enjoy, it is a sense of having control over their own dining experience. Artificial intelligence provides this sense of control to restaurant customers by making recommendations, suggesting recipe combinations based on diners' facial expressions, and finally by allowing people to talk to menus. This last feature is particularly useful as it provides customers' voice data while they are ordering food. This data can be used in the context of voice and speech recognition, along with behavior analysis.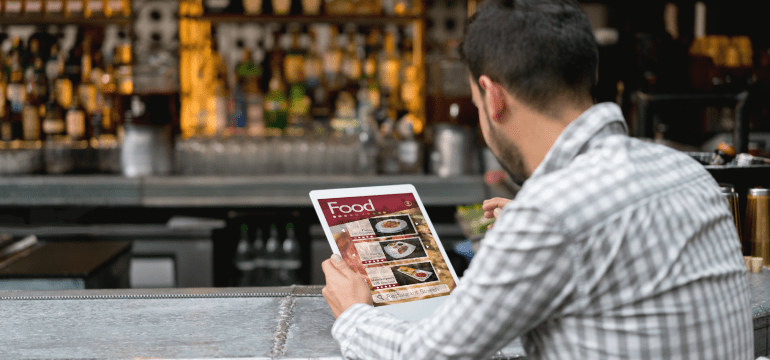 5. Develop better marketing campaigns
Data from various customer interactions and restaurant operations can be used to develop marketing campaigns that actually work. Artificial intelligence is capable of gathering rich data by identifying natural language patterns, speech recognition, facial expression, and even movements of customers while they are ordering. In addition, robotic tools that help automate restaurant operations can provide valuable data too, which can combined in conjunction with customer data. Such data insights can help create formidable marketing campaigns that rarely fail.
6. Combining restaurant data with local intelligence
Local intelligence is part of Big Data that is derived from a number of sources. AI is crucial in gathering local intelligence, from various other sources, and maybe available on shared platforms. This data can be used with the raw data from your business to predict customer footfall, and understand what is going on in your location more intimately. Location intelligence can also help you choose the right suburb or neighborhood to start a new branch of your existing restaurant. After all, it is a known fact that 60% of restaurants shut down within the first year simply because they are not able to their new location right.

AI and data can help your restaurant scale quickly
Certainly, AI is a powerful way to generate data and integrate with data from other sources. Analyzing such complex data will help you to predict outcomes, reduce manual work in restaurants, and enhance the customer experience by improving customer service and making recommendations. Using AI and data together will help you to scale quickly, and branch out to other locations as well. Most importantly, you can provide a better dining experience both via online ordering and offline visits.